Despite what some people in the industry might try to have us believe, SEO isn't "dead" – and it's unlikely to be dead for a very long time. The reality of the situation is that, as long as there are search engines – and as long as the results those search engines show are determined by algorithms – there will be SEO.
That said, SEO has changed a lot, and many tactics that worked as recently as a couple of years ago are now entirely defunct (unless you're in the market for quick "wins" that will simultaneously put the entire visibility of your website at a very real, and very serious risk).
The last few years have seen SEO become a far more difficult discipline to master, and consequently, it's become far more interesting. If you ask me, that's a great thing.
So, with so many previously tried-and-tested tactics now sitting firmly in the realm of "blackhat" SEO, the question lots of people are asking is: what the hell still does work?
To find out, I had a chat with a few of my friends in the industry. This is what they had to say…
"Increase your title tag CTR by optimizing SEO titles with click-friendly ad copy. Most people are still stuck in a keyword-focused mindset, so this is a nice low-hanging fruit to very quickly increase CTR and traffic."
This is an interesting one because, as Ross pointed out, "most people are still stuck in a keyword-focused mindset." And with title tags, there's a good reason for this: they're still a factor in Google's algorithm.
The real question, though, is this: how big of a factor are they?
Correct me if I'm wrong, but only Google knows for sure. That said, since title tags are so frequently stuffed with keywords, I think we can safely say that today, they have minimal impact on rankings.
Consequently, this means there are quick wins to be had by looking at title tags a little differently. As Ross suggests, treat them as a conversion tool rather than a place to stuff keywords in the hope of influencing rankings.
"Include self-referencing breadcrumbs."
Breadcrumbs are a great way to naturally incorporate exact-match keywords into your site (in addition to being a seriously useful tool for the user).
They're super common (particularly on ecommerce sites), as seen in the way Amazon uses breadcrumbs to their advantage:
However, what you see less often are self-referencing breadcrumbs – that is, breadcrumbs that reference the page you're currently on.
There's no reason you can't do this. As long as the breadcrumb isn't intrusive, you can use it to incorporate additional keyword signals into the page, without affecting UX.
Kristopher B. Jones, LSEO.com
"Contribute unique content to reputable industry trade publications."
This tactic sits somewhere between traditional PR and guest blogging – the idea being that you attain visibility for your brand from relevant publications (PR), in addition to gaining a valuable link back to your website (guest blogging).
Essentially, this is what guest blogging should have been – industry experts contributing valuable content to quality publications and, as a result, getting their brand in front of a relevant readership. If a followed backlink is part of the prize too, then that's a bonus – but it should never have been the only goal.
Unfortunately that's not quite that path guest blogging took. As a result, its demise left many site owners questioning the risks involved in editorial contributions of any kind.
Well, I can reassure you that quality content contributed to reputable, relevant publications is highly unlikely to get you into trouble. I regularly do this myself by writing for sites like Forbes, Inc., and Entrepreneur, but I do this to increase my exposure and to share my knowledge – not to gain links.
If you're unsure whether a publication you want to contribute to poses a risk, ask yourself two questions:
If there was no backlink involved, would I still be happy to write for them?
Would I be happy (and proud) to show this contribution to my boss?
If you can answer both questions with a yes, go for it.
"Build value-added resource centers."
For quick wins, link-bait (think infographics, viral videos, etc) undoubtedly has its place. On the other hand, quality resources that provide genuine value can, over time, help you build a diverse and, more importantly, natural backlink profile.
The key lies in the word "quality." To rank well in the search engines and to inspire links, the content has to be genuinely helpful. Short text-heavy how-tos just won't cut it. Instead, think:
Videos
Illustrated how-tos
White papers
Original research
Unique insights
The other key is to incorporate all of your resource content into a central hub with an attractive, optimized index page. This turns the entire section into (essentially) a microsite, which consequently, is more likely to rank in the SERPs, be perceived as a quality, trustworthy resource, and – most importantly – gain links. This setup also makes it easy for visitors to browse your content and locate other articles of interest.
The World Book Day resources section is an excellent example of how to do this well.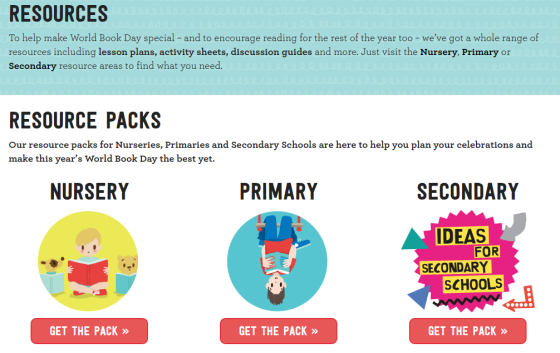 "Optimize your Google My Business Page."
Launched summer of last year, Google My Business brings all your vital Google business tools under one roof. If you've already been using Google+ or Google Places, you'll have automatically been upgraded to Google My Business; however to get the most out of the tool, you need to take the time to optimize your page by taking the following steps:
Ensure all of your business information is complete and accurate (including your location – double check that your business appears in the correct place on Google Maps).
Choose the most appropriate, and specific categories for your business.
Ensure your business information on third party websites is accurate and kept up-to-date.
Encourage customers to leave reviews on your page.
If you're a local business, make sure to get yourself verified.
You can read even more about optimizing your Google My Business page here.
"Use a combination of Spyfu and Scrapebox to determine the most probable low-hanging fruit of keyword opportunities."
Back in the glory days of SEO, you could choose a competitive, commercial keyword, point a hundred or so exact match anchor text links back to your site, and, chances were, you'd quickly make it into the top ten – or higher – for the keyword.
Today, unless you're a big brand with the domain authority to match, you're going to find it very difficult to rank well for those big keyword phrases.
The alternative, as Joe explains, is to identify low-hanging fruit keyword opportunities – in other words, those keywords with the magic combination of low-competition and good potential profitability.
Once you've found them, using the tools he recommends:
Map the keywords to relevant pages on your site
Optimize those pages for your chosen keywords
Create editorial content around your new keywords with deep links back to related pages of your site
"Optimize your content using TF*IDF analysis."
Once upon a not-too-long-ago "keyword density" led the way in controlling content optimization. Thankfully, times have changed. Today, there's a good chance that if you're even thinking about keyword density when creating content, you won't sound natural.
Today's search engines (or Google, at least) are far more advanced in their understanding of the words on a page and their relationship to one another. They know, for instance, that if they see the phrase, "German Shepherd" on a page, that it would be natural to also see the words "dog," "pet," or names of other dog breeds.
This understanding of semantics makes a huge difference in how effective Google is at supplying the most relevant results for the searches we perform.
Google also uses TF*IDF to analyze the words on a page. TF*IDF "doesn't measure how often a keyword appears, but offers a measurement of importance by comparing how often a keyword appears compared to expectations gathered from a larger set of documents."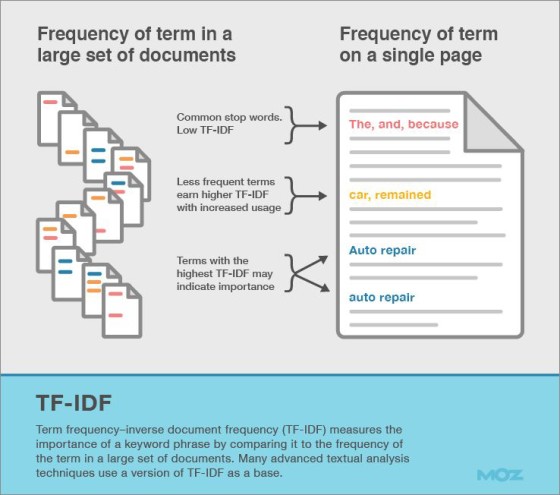 For example, TF*IDF highlights that words such as "the" appear frequently in all content, and are therefore unimportant. On the other hand, it also shows that words or phrases such as "conversion rate" or "Golden Retriever" appear far less often, and are therefore likely to be considerably more relevant to the meaning of a page.
When used in content optimization, TF*IDF can allow you to identify a natural balance of "important" keywords, while also helping you find even more valuable keyword opportunities.
The only downside to TF*IDF analysis is that the calculations aren't exactly simple to do yourself. Thankfully, Marcus' very own OnPage tool has that covered for you – check it out here.
"Optimize for mobile usability."
Earlier this year, Matt Cutts said he "wouldn't be surprised if mobile search exceeded desktop queries this year." Consequently (and understandably) this meant Google felt it was time to start giving more weight those sites that are "mobile-friendly" and less to those that aren't. The result was Google's mobile-friendly update which began rolling out on April 21st of this year.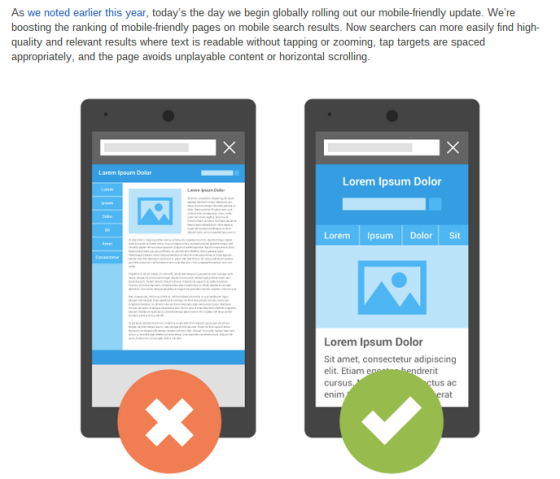 If you haven't yet begun addressing your mobile site needs, now's the time to do it.
To get started, Google has created a handy Mobile-Friendly Tool which analyzes a URL and tells you whether or not Google considers the page to be "mobile-friendly." If Google says no, you need to start making changes.
The tool will give you a good idea of where to begin, though more information is available (direct from the horse's mouth) right here.
Duane Forrester, Bing
"Make changes to your website (and its content) that will improve user experience."
User experience has always been critically important – a poor UX will drive visitors away from your site and right into the arms of your competitors.
However, search engines are becoming increasingly concerned with the UX of the websites they send their visitors to.
Google, in particular, wants to ensure their results pages are filled with not just relevant results, but quality websites, too.
I'm in full agreement with Duane here: if you want the search engines to treat you favorably in their results pages, make sure you're offering a seamless user experience, both in terms of usability and the quality of the content you offer.
William Harris, ELUMYNT
"Invest in broken link building – it's harder than ever, but it's still crazy valuable."
Broken link building has always been a favorite tactic of mine, since you're almost guaranteed to see a reasonable return on your investment.
There are a number of ways to approach it; the best, in my opinion, is the "locate a popular piece of content that no longer exists, create your own (improved, updated, and original) version of said content, and use a link research tool to identify (and contact) the sites that link to said original content" method.
There are a number of tools that can help take some of the extra work away; William recommends Point Blank SEO's tool in particular.
Alternatively, Moz has an excellent article here that talks you through the process of broken link building, in addition to offering a few critical suggestions about what not to do.
"Turn copyright violations into links: when a site uses your images or content without permission, email them asking for a link to your site as credit. Mention that if they don't comply you'll be forced to issue a DMCA takedown notice but you'd like to avoid that."
This is a great tip from Ben, and it's one that's really quick and easy to start implementing.
To manually check for image copyright violations, perform a reverse image search (to do this, just go to Google image search, and drag the image you want to check for violations over the search box).

To check for copyright violations of your written content, simply search for a sentence of your content in Google, using exact match quotes, like so:

Of course, a copyright violation of your written content opens other, potentially hazardous doors: there's a chance that the search engines may not see your site as the original author. This could potentially result in a duplicated version of the content ranking above your original version.
To remedy this, ask the "thief" to implement a cross domain canonical, which would name your site as the originator of the content.
Bonus tip: Add your images to Flickr under a Creative Commons license. Within the image description, include instructions to link back to your website as attribution. If your images are good, it's a great way to generate quick links.
Of course, most people will ignore this instruction and simply link back to your Flickr page. Use a tool like Image Raider to track where your images are being used, and contact those who haven't attributed you correctly.
"Turn blog category and tag pages into topically relevant landing pages with unique content and calls to action before the list of posts."
The general consensus when it comes to blog category and tag pages is to avoid duplication issues by applying the meta robots "noindex, follow" tag to all potentially offending pages.
However, if you ask me, this is essentially just covering up the problem.
Why don't you, instead, customize these pages with useful, unique content, and then allow them to be indexed by Google? The result is that these pages will become more akin to a magazine's index pages than the auto-generated pages we so often see, consequently becoming linkable resources on their own.
"Optimize your site for page speed."
I couldn't possibly agree more with Jon on this one; as he said himself, it's "almost a no-brainer." Site speed has been a ranking factor for Google since 2010, making it a critical element of any website's SEO.
Not convinced? How about the fact that "47% of users expect a site to load in 2 seconds or less" and "40% of users will abandon a site that takes more than 3 seconds to load."
I think we can safely say that site speed is pretty damn important.
To find out how long a page on your website takes to load, and to see suggestions for improving this speed, head over to Google's free PageSpeed Insights tool for more information.
"Use your content to gain links from resource pages."
Jon elaborated a little more on this recommendation by going on to explain that this tip isn't suited to everyone. But for the right site, this is a scalable and effective method of link-building.
It's pretty easy to get started with too. Essentially, what you're doing is just a targeted twist on blogger outreach – you simply contact websites with a resources section and encourage them to link back to pieces of your content that you believe would make a (genuinely) useful addition to the page.
"Link out to other sites – this gives you a good excuse to email these site owners and ask them to share and link to your content."
I've always been a little puzzled by webmasters that are afraid to link out – is it a fear of driving traffic away from your site? (Quick tip: you can help remedy this by setting links to open in a new tab rather than a new window.) Or does it stem from concerns that you'll be associated – perhaps negatively – with the content you link out to?
Whatever the reason, it's a pretty backwards way of thinking, especially when you consider how heavily the benefits outweigh the potential risks.
Linking out:
Is natural (which looks good to Google)
Can add weight to your arguments
Helps improve the visibility of your content
Associates your website with other top-tier pages
And as Neil has explained, when you link out to other sites within your content, you can then email the site's owners to let them know. If they share your content with their audience, this increases the number of people that view, share, and potentially link to your content.
If you ask me, it's a no-brainer.
"Write exceptionally good content."
As much as I dislike the phrase "content is king," I can't deny its relevance to SEO today. For a while, the word on the grapevine has been that link-building doesn't really work anymore. Put simply: this is wrong.
Just like those marketers that proclaim "SEO is dead," link-building isn't "dead." (Don't believe me? Take a look at this excellent study from Moz). Link-building has just changed. Significantly.
Directory submissions, blog comments, forum spam… all these "methods" of link-building required little more than data entry skills to execute.
Today, link-building requires real skills: marketing, PR, innovation, but, predominantly, content creation.
Create exceptionally good content and to quote Neil further, it's far more likely to be "read, shared, and linked to."
"Pay close attention to your internal linking structure."
Some online marketers pay so much attention to external links that they overlook the importance of internal links. This is a big mistake.
Here are five key reasons you need to be paying attention to your internal linking structure:
Internal links make it possible for users to navigate your website. Consequently, a poor internal linking structure makes navigation difficult and will increase bounce rates.
Internal links help spread link equity around your website.
A good linking structure helps the search engines to crawl your site more efficiently.
Your linking structure helps form a hierarchy for your website – this is important, for instance, because it helps the search engines to identify that a category page should be given more weight than a product page
Unlike external links, you can safely include keywords in the anchor text of your internal links, which will help inform search engines about the topic or themes of a page.
Ben Cook (featured above) also spoke about internal linking and site structure, suggesting that if you're "having trouble visualizing the structure of your site, map out the pages like a family tree, and actually print it off to hang on the wall. Problems with your site structure are far easier to identify if you can physically see its format laid in front of you."
"Start using schema."
Schema is a type of microdata that's applied to the HTML code of a web page to help define what a page is about and how the search engines should treat it.
However, it's worth understanding that although schema help the search engines to interpret a page, they don't (as far as we know) affect rankings.
That said, what schema can help with are your click-through rates.
A page that's been optimized with schema appears more prominently in the search results, which naturally increases the number of clicks to that page.
For example, in the screenshot below (taken from Google's search results) the middle three results have utilized schema markup, while the top and bottom results have not. Which of these results do you think you'd click on?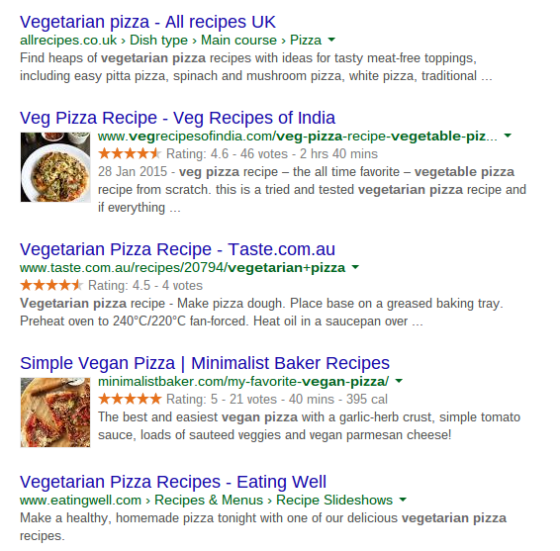 "Scale and systemize your influencer outreach efforts."
Stephan's an advocate for building links by building relationships (specifically with "bloggers with high klout scores and high domain authority in a particular keyword market"). However, he also believes in using tools to scale and systemize his outreach – for Stephan this tool is Pitchbox.
Pitchbox includes workflows, a CRM, template library, prospecting tools, a moderation queue, automated follow-up, pipeline reports, and much more. You can read more about Stephan's approach and how he enhances his outreach efforts with Pitchbox here.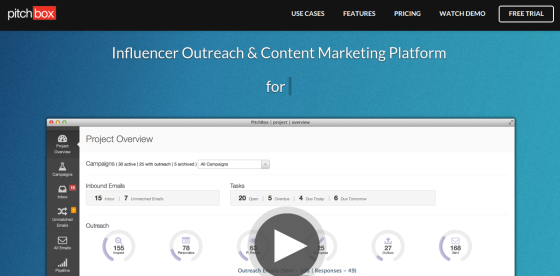 For something a little less comprehensive and (depending on your needs) potentially more cost-effective, keep an eye on ContentMarketer.io – a platform I've been working on with my partner Colin Mathews.
"Reclaim links that point to 404 errors."
The structure of a website changes over time (content gets moved, products are discontinued, etc.) so it's almost inevitable that along the way, some inbound links will wind up pointing to a 404 page.
When this happens, you'll want to either:
Fix the 404 (i.e. restore the broken page), or
Implement a 301 redirect to a new, suitable page (bearing in mind this method will result in a small amount of lost link equity).
There are two steps to identifying broken inbound links.
Identify all of the 404 errors on your site. You can do this in Webmaster Tools under "Crawl Errors" by clicking on "Not Found:"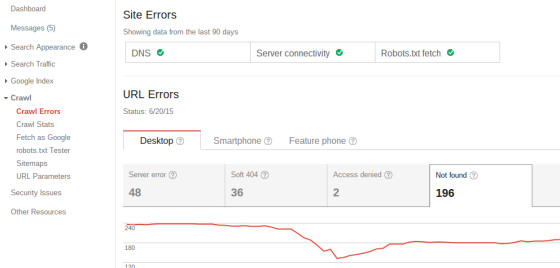 Alternatively, you can use a crawling tool such as Screaming Frog to find these errors.
Use a tool like MajesticSEO, Cognitive SEO, or Ahrefs to identify any backlinks that are pointing at those broken URLs.
"Emulate your client's keyword strategy."
Stephan recommends "using competitive intelligence tools like Searchmetrics or SEMrush to identify which keywords your clients' competitors are ranking for in Google (and gaining traffic from). Add the best of these keywords to your own keyword strategy."
Of course this tactic isn't fool-proof, and it requires a certain amount of human analysis to get right. Just because a competitor is ranking for a keyword doesn't necessarily mean it's a keyword that you – or even your competitor – should be targeting.
However it's certainly something that's worth looking into to see if you can locate any quick and easy keyword wins that you might not have spotted otherwise.
"Re-package your content into different formats."
This is an excellent way to leverage your existing content to gain additional wins for minimum time and expense. Think about:
Turning a video into a blog post (or, vice-versa, turning a blog post into a video)
Turning an infographic into a series of blog posts
Turning a series of blog posts into an eBook
Turning your blog comments into a blog post
Don't forget that when you re-package your content, you'll also want to use this opportunity to promote it to a fresh audience.
"Use Twitter chats to build relationships, referrals, and exposure."
Getting the most out of Twitter chats can be time-intensive, but the payoff is usually well worth it.
The key to being a success here is to be yourself. Don't join a chat and start shouting about your brand or the latest piece of content you want to push. No one will care. Instead, actually get involved in the conversation, take the time to get to know people, and if an appropriate opportunity to promote yourself or your content arises, make the most of it.
To find relevant Twitter chats, take a look at TWUBS or the Twitter Chat Schedule.
"Contribute to (and publish your own) expert interviews."
This is essentially what Ann (and all the other SEOs who have shared their knowledge) are doing here – they've contributed their expertise to this article and, in exchange, they get exposure and a link.
So, how do you find these sorts of opportunities?
If you're not already doing so, make sure to follow your favorite industry influencers on Twitter – if they're looking for contributors to an article they're putting together, chances are they'll start there.
Additionally, get yourself signed up for HARO (Help a Reporter Out) notifications. HARO is the go-to tool for bloggers and journalists in need of expert contributors. Pretty much anything and everything is covered – even if you're in a somewhat unusual industry, there's a good chance something relevant will eventually come along.
Just try to be a little more ethical about it than the now-infamous Ryan Holiday…
"Optimize for Rich 'Jump To' Snippets."
Rich "jump to" snippets are a form of markup that manifests itself as those additional links you see within a search snippet – the ones that jump directly to a specific part of a long page. They're very common in Wikipedia's search snippets, as you can see in the three examples at the bottom of this Wiki result:

Not only are these links really useful to the user, they're also another opportunity to include anchor text keyword signals within the page.
Find out how to implement "jump to" snippets here, and give it a try today.
So now, before I sign off, I want to say a huge thank you to all the very awesome SEOs who helped me out by sharing the tactics they know work and still use today. It's key that in an industry that changes so quickly (are there any industries that change faster?!), that we make sure we're always sharing our knowledge, research, and findings.
That said, the above is by no means a comprehensive list of working, whitehat SEO techniques. If you have another idea to contribute, let me know which others tactics you're using in the comments below: