Update 1: I wrote this post a few years ago and since then I've made even more money (total is up to $980k) using t-shirt marketing and sold the company.
Update 2: I sold my marketing agency and moved across the country from SF to Minnesota (wtf, right?) to work at When I Work.  We're using t-shirts for marketing purposes: Grab yours here: http://wheniwork.com/free-shirt
Update 3: A few hours after I posted update 2, one of my awesome readers submitted us to Reddit. Long story short, we gave away 30,000 tshirts. We honored every order but had to stop offering free t-shirts as being on the Reddit homepage cost us $280,000 🙁
I'm going to let you in on a little secret…  When it comes to business, I'm passionate, motivated and driven.  But when it comes to a lot of other things in my life, I can be pretty lazy.
As soon as I started making money with Single Grain, one of the first things I did was to go out and get some t-shirts made.  Not because I thought it'd be some genius marketing move, but because I knew I'd be able to wear them every day and never have to go clothes shopping again.  I started out with an order of 25-30 shirts, and since this was more than enough to fill up my closet, I decided to give the rest away to friends.
I posted to Facebook to see who wanted a few shirts and was surprised when I ran out just a few hours after I put up the message.  Clearly there was a demand for my shirts!

Since my supply was short, I put together an email list of people who were interested and started sending out the shirts with personalized notes.  Not only did this allow me to help capture people's physical addresses for use in future t-shirt giveaways, my friends were so excited that they personally thanked me on Facebook and started wearing the shirts around town.
That excitement told me that I was on to something.  Versions 1.0 and 2.0 of the t-shirts were in pretty short supply, but once I started to notice that people knew Single Grain's name, I decided to go all in on Version 3.0.
My next order of shirts was much larger.  I ordered multiple colors and enough that I could give 4-5 shirts to every person that wanted them.  I told these people – "I don't care whether you wear them or wash your car with them, just take a few shirts."  I even donated a bunch to the Salvation Army and later came across a homeless person wearing a Single Grain t-shirt.
[fancy_box id=10 linked_cu=3809 background="#45accc" action1="Download"]Free Startup Growth Resources Cheat Sheet[/fancy_box]
By this point, our shirts were everywhere.  More than 500 people were supporting our brand by wearing the shirts around town – allowing both the shirt project and our company to start gaining some serious traction.
These days, our Single Grain shirts are our uniforms.  Everyone on our team wears them, so when we all go to lunch together, we roll deep.  Even our book keeper wears our shirts every single day.  In our SOMA neighborhood – where we're surrounded by hundreds of other startups and entrepreneurs – this kind of publicity and name recognition is huge.
But we definitely aren't done with this project yet.  Our team creates a new design every 6-12 months, which keeps things fresh.  The people on our email list always want to have the newest designs, which keeps our name out there – bringing in new business day after day.
So how did I make $500K from this?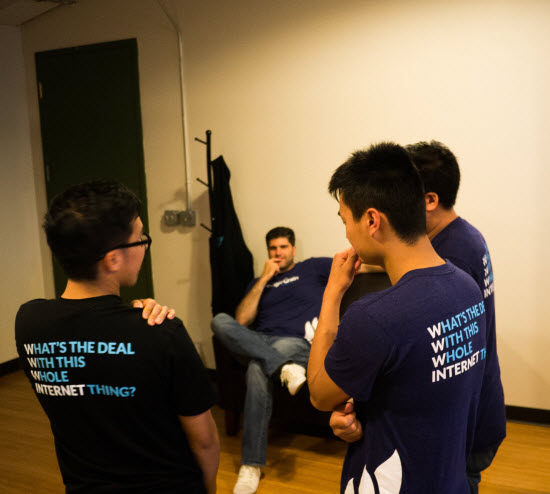 Now that you know how my t-shirt project worked, here's how it generated results for me:
It helped me strike up business conversations
Because I wore my shirts everywhere, the people around me would ask, "What is Single Grain?"  Then, I could give my 30-second elevator pitch and hand out business cards to people who were interested in our services.
No joke – this happened everywhere.  It happened while I was waiting for a haircut at Super Cuts, while I was working out at the gym and while I was racing at the track.  Hell, I even landed a 50K client while I was getting a massage!  These conversations alone led to about 40% of the 500K I made through my t-shirts.
It helped me get into larger companies
Since I gave away shirts to my friends, they wore them to their jobs – some of which just happened to include positions at companies like Apple, HP, Google, Cisco, Yahoo and Wells Fargo.  Their coworkers and bosses would eventually ask what Single Grain was, which led to another 30% of my 500K returns.
It helped me to grow my brand recognition
Right now, Single Grain is a 16-person with almost zero marketing budget (and what we do have, we spend on t-shirts!).  Since we don't have the money for huge ad campaigns, nobody really knew who we were at first.  The t-shirts changed that.
These days, most of our business comes from referrals and word-of-mouth.  But what's interesting is, because of our t-shirts, prospective clients are a lot more familiar with our brand.  Whenever I'd talk to a new customer, I'd find out that they were a lot more comfortable with us and a lot more trusting of our services – all because they knew our name from seeing our t-shirts around town.
The remaining 30% of my $500K can absolutely be put down to the new calls that we got from our shirts and the deals that we were able to close as a result of this brand recognition.
How can you launch your own t-shirt program?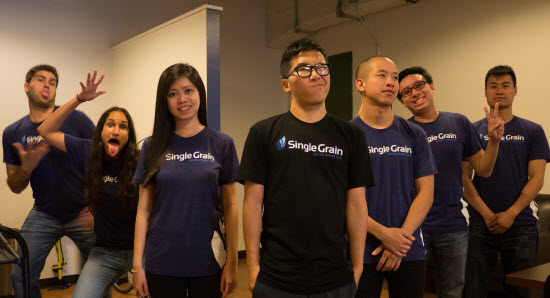 Clearly, creating and distributing Single Grain t-shirts has made a huge difference for me.  If you're growing a business and want to put your own similar program into place, the following are a few of the lessons I've learned:
Don't cheap out
From the start, I ordered the best quality t-shirts I could find.  They're American Apparel shirts and they cost around $10-15 a piece with the design included.
Could I have found cheaper options?  Absolutely.  But I chose to buy the best shirts I could because I knew that people wouldn't wear them if they weren't comfortable.  Buying great shirts meant more publicity because the people that received them recognized that they weren't just "throwaway" shirts intended for publicity purposes (plus, I wear them every day too and I like to be comfortable!).
Keep your design simple
Our current batch of shirts features our logo on the front and a simple message on the back – that's it.
Not sure how you feel about your logo? Check out this post on logo design tips and lock down your logo design before buying too many t-shirts.
Keeping the design simple means that anyone can wear them without feeling like a walking billboard.  Even my mom loves wearing them!
Wear it everywhere
If you're going to buy shirts to promote your brand, it's sort of a no-brainer to say that you have to actually wear them.  Don't buy them, throw them in your closet and call it a day.
When you wear your shirts everywhere, people start to get curious.  And when they get curious, they go out of their way to learn more about you and your company.  In some cases, this might turn into more business.  But even if it doesn't, people who are interested in your shirts might be willing to wear some of your extras around – leading to more business down the road.
And finally, make sure to thank the people who do wear your shirts.  Whenever we send out new batches of shirts, we add personalized notes thanking people for wearing them because we recognize how important this form of promotion is for our brand.  As a result, they feel good and we get more publicity – everybody wins!
Does your company give away free t-shirts?  If so, share the best place you've spotted one of your shirts in the comments section below: