Traditional social media marketing activities – including reaching out to new followers, posting engaging content to your company's profile and using the service to build relationships with industry experts – all have their place in a good website promotion campaign.
But what happens when you've reached the limit of what's possible using these tactics alone?  What if you've seen a leveling-out of the number of new Twitter followers you're able to reach, or you've scheduled as many future tweets as you're comfortably able to do?
If you've explored all of Twitter's standard offerings, it may be time to take things to the next level with Twitter Advertising!
Currently, Twitter offers three paid promotion programs within its popular social network – Promoted Accounts, Promoted Tweets and Promoted Trends.  In the following sections of this post, we'll look at each of these available options in turn, while also looking at the pros and cons of each in order to determine which promotional method is right for your company.
(But first, a disclaimer…  The Twitter Advertising platform isn't all that user-friendly.  It isn't fun to navigate, but the results you're able to achieve using this service may make it worth the extra struggle needed to find the right options for your business's marketing strategy!)
Promoted Accounts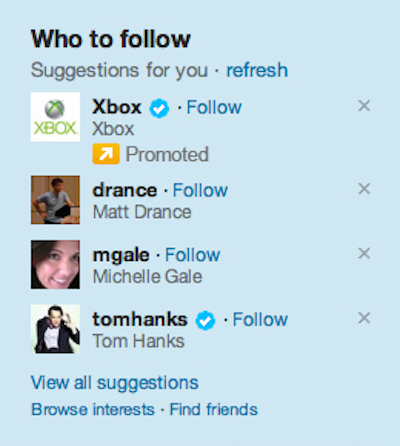 Twitter's Promoted Accounts feature enables you to position your company's Twitter username at the top of the "Who to follow" list that appears on every Twitter user's feed (as well as on lists found in the "Who to Follow" widget, Twitter's "People" search and in the "Similar to You" area of a user's profile page).  Essentially, this feature enables you to grow the size of your follower list – without the time-consuming effort of going through and adding new users manually?
But why would you want to grow your Twitter follower base?
In actuality, following a user on Twitter is one of the greatest expressions of affinity that exists on the site.  A person followers your account because he's interested in hearing more about what you have to say – making the number of users following you a good indication of how well-regarded your Twitter persona is.
Of course, there are benefits for you – the advertiser – as well.  Not only does a larger Twitter following increase your account's social proof (meaning that other users will perceive you as more of an authority figure based on the number of others who have given you their "vote of confidence"), it also enables you to reach more people with your calls-to-action.  If you promote products, website articles or other actionable links on your account, having more followers should naturally result in higher click-through rates and conversions.
To get started with Twitter's Promoted Accounts, you'll first need to sign up for a Twitter Advertiser account.  Once your account is set up, select the "Promoted Accounts" option from within the advertising dashboard and you'll be prompted to enter keyword-based interests that will be used to narrow down the users to whom your account will be recommended.  You'll also be able to set up your budget and timing (basically, how much you want to spend over what period of time) from within this area.
Put some effort into thinking up the keywords you'll enter for your chosen interests, as the better you can target potential users, the more likely it is that these users will ultimately decide to follow your profile.  Continue to refine your chosen keywords over time, based on the initial results that you see.
Promoted Tweets
If you only want to build interest about an upcoming event or sale, promoting an individual tweet within your Twitter feed might make more sense than recruiting new users to follow your profiles.  In this case, Twitter's Promoted Tweets feature is for you!

Promoted Tweets are displayed in a number of different areas, including the tops of relevant search pages, within the search results pages for Promoted Trends, as pinned tweets within enhanced profile pages, in official Twitter desktop and mobile clients, within third-party Twitter clients and – of course – in users' Twitter feeds (where relevant).
Interestingly, Twitter's Promoted Tweets are billed on a cost-per-engagement (CPE) basis, which means that you only pay when someone engages with your promoted tweet (for example, by retweeting your message, replying to it, adding it as a favorite tweet or clicking on it).  Otherwise, the extra impressions received on your Promoted Tweets and related retweets are free, making this a cost-effective option for getting a one-time message out to a wide group of people.
To take advantage of this opportunity, you'll – again – need to start by signing up for a Twitter Advertising account.  Once inside, you'll be able to launch a Promoted Tweet campaign by setting how you'd like to reach your audience (for example, by target search results, Twitter feeds or user profiles), and specifying any relevant details needed to make your promotion options as highly-targeted as possible.
After your targeting options are set, you'll be able to select the specific tweets from your profile to promote, as well as set your campaign budget and desired duration.
Promoted Trends
Finally, if you've got deep pockets, promoting not just an Account or a Tweet – but an entire Trend – might be the Twitter Advertising solution for you!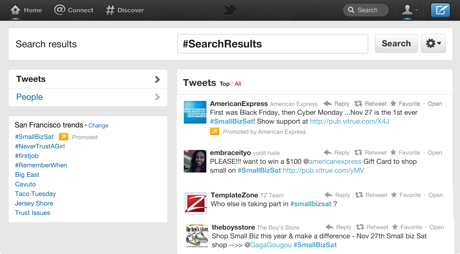 Promoting a Trend involves creating (or co-opting) a trending topic or hashtag that will appear in Twitter's "Trends" box to all users.  Unlike Promoted Accounts or Promoted Tweets, Promoted Trends are automatically made available to all Twitter users and must be set up directly with Twitter's advertising offices.
On the plus side, your trending topic will appear to an incredibly large audience.  As a result, if your campaign is well-designed, promoting your brand in this way could generate a substantial volume of new traffic, Twitter followers and website sales.
On the other hand, it's expensive.  There's a reason that you usually only see major companies like Coca Cola, HP or Target promoting Trends – as reaching the entire Twittersphere at once is going to cost you.  But again, depending on your company's size and objectives, this type of promotion might be just the thing needed to jumpstart a major new advertising campaign.
Twitter Analytics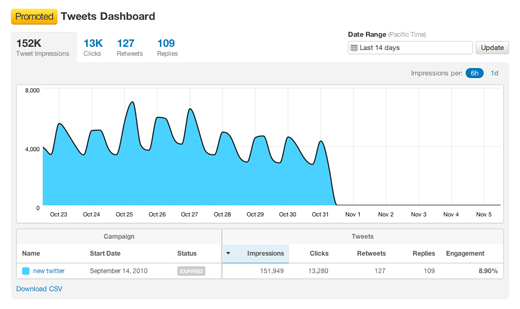 No matter what type of Twitter Advertising you choose, be sure to take a look at the social network's Analytics dashboard.  There, you'll find data on fundamental campaign metrics, including:
Overall impressions
Retweets
Clicks
Replies
Follows
Change in metrics over time
Refer to this information often, as you'll want to continually test and tweak different elements of your Twitter Advertising campaign to ensure that it's as effective as possible.  This is especially important if you choose the Promoted Tweets campaign type, as tweets quickly grow stale and should be replaced frequently in order to help advance your Twitter marketing goals.
In addition, be sure to tie your Twitter-provide analytics to some measure of ROI that's important to your company.  Just because your Promoted Tweets have been retweeted hundreds of times or your Promoted Account has received thousands of new followers since your campaign launched doesn't mean that either of these metrics will have a meaningful impact on your business's bottom line.  Be sure that your Twitter activities are creating a positive ROI compared to your financial investment to prevent this promising type of advertising from bleeding your business bank account!
Have you used Twitter's Advertising programs before?  If so, share any recommendations that you have on achieving the best results or maintaining a positive campaign ROI in the comments area below!