Blog commenting is a somewhat… controversial marketing tool. But, that's mostly because of comments like this: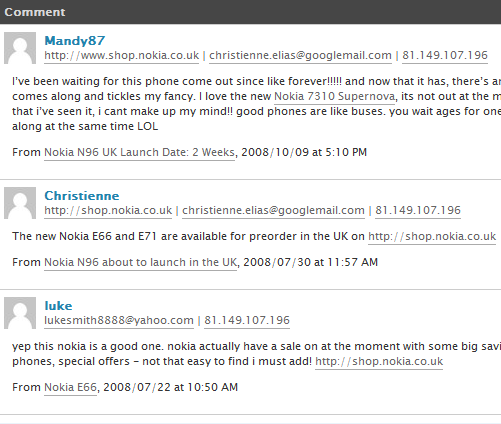 And this:
There's no arguing that blog comment spam isn't a problem…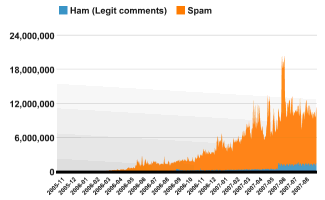 In fact, spam comments make up the vast majority of blog comments posted to the web. It sounds crazy, but the anti-blog-spam tool, Akismet, sees around 7.5 million of them every hour.
And there's little mystery around why.
Once upon a time, blog commenting was actually an effective link-building strategy (here's Loren Baker recommending it back in 2007). But that really was "once upon a time" (at least, in internet terms…).
Today, excessive blog commenting executed purely to gain links is officially frowned upon. According to Matt Cutts:
"If your primary link building strategy is to leave comments all over the web, to the degree that you have a huge fraction of your link portfolio comments, and no real people linking to you, then at some point that can be considered a link scheme. At a very high level we reserve the right to take action on any sort of deceptive or manipulative link schemes that we consider to be distorting your rankings."
What's more, even if manipulative blog commenting doesn't land you a very lovely penalty, thanks to the "nofollow" attribute that's commonly used today, any value you gain in terms of link equity is pretty much negligible anyway.
But, that doesn't mean that blog commenting can't be used as a legitimate mechanism for marketing your company and generating leads.
As part of my marketing for my recent ContentMarketer.io launch, I did just this with the primarily goal of generating leads.
After approximately 20 hours work, my blog commenting resulted in 2,494 visitors and 513 new trials of the tool – in other words, some pretty strong leads.
This activity may not be totally scalable, but my results equate to a 14% conversion rate. Not too shabby, if I don't say so myself.
Of course, I didn't just go and post anything – anywhere and everywhere. I created and followed a careful plan. Stay with me to find out what I did…
Step #1 – I searched for relevant articles
Since the goal of this strategy was to gain leads for a content marketing tool, I began by searching Google for terms like "content marketing tools" and "content marketing resources."
Of course, I wasn't interested in the actual tools themselves or resources pages, so I narrowed my search by adding the advanced search operator "inurl:blog." This meant that my search results would be made up exclusively of articles, most of which I'd be able to comment on.
Just to clarify, this meant that the initial search terms I used were…
"content marketing tools" inurl:blog
And…

"content marketing resources" inurl:blog
I also tried entering these search terms both with, and without, the exact match quotes.
However, I wasn't just going to hop from post-to-post blindly leaving a comment and a link to Content Marketer – being so disorganized would make it very difficult to track my success.
Instead, before I began commenting, I saved the URL of each post I planned to comment on in a spreadsheet (you might be able to save yourself some time by scraping Google's results).
However, I didn't comment on every post that came up, for two reasons…
Not every site had a readership that matched my target audience.

To quote Matt Cutts again, there was a chance (albeit a small chance) that if I over-used this technique "

then at some point that might be considered a link scheme."
Step #2 – I chose where to comment
Since I didn't want to risk my nearly brand new site suffering a penalty, I had to be strategic about where I chose to comment.  
Articles that appeared on the first page of Google for my search terms were a good bet, since their prominent positioning (in Google) meant that they were (and are) likely to receive regular traffic.
Quick tip: Make sure to log yourself out of Google and go "incognito" (if you're using Chrome, at least).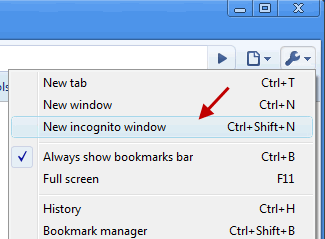 This will prevent personalized search mechanisms from skewing the results you see in favor of sites you've recently visited or visit regularly.
In general, I also avoided posts on less industry specific sites (such as news sites), because I (probably rightly) assumed that the majority of visitors to those pages were unlikely to be in need of a tool like Content Marketer – and, consequently, were unlikely to convert.
I also made sure to filter out any low-quality sites – if there's any real chance of a questionable footprint being left by blog commenting, it's going to result from leaving comments on sites that are engaging in questionable practices themselves.
Here are a few quick tricks that can help you establish whether a site is worth your time or well worth avoiding.
Tip #1 – Use the free Moz Toolbar to find out the domain authority of the site in question.
On that note, I feel it's worth mentioning pagerank. Pagerank (Google's measure of the importance of a web page) used to be a reasonably solid way of establishing the authority of a site (and a specific page). However it hasn't been updated (publicly, at least) since December 2013, so don't rely on it as your only metric.
Bonus tip: If you're looking at a blog hosted on a subdomain such as .blogspot or .wordpress, ignore the domain authority reported, as it stems from the host site and, as such, is an irrelevant metric.
Alternatively, I'm also a big fan of SpiralDB. It's not as well-rounded an SEO tool as the Moz Bar, but it beats it hands-down in terms of link risk analysis, pulling in data from Ahrefs, Semrush, and Majestic.
Tip #2 – Check for questionable-looking links.
Before you decide to post a comment on certain sites, take a look at their backlink profiles. You can gain some insight with a paid Moz account; however, tools such as Ahrefs and Majestic will allow you a sneak peek for free.
If you spot an overwhelming number of questionable-looking links, steer clear.
Tip #3 – Check out their social profiles.
A large following is a good sign, but is easy to manipulate. An active following is a better sign.
Tip #4 – Trust your instincts.
If a site looks like a quality site, it probably is. If it's littered with spelling mistakes and just doesn't look like a site you would want a link from, you're probably right in thinking it's one to avoid.
Last but not least, when choosing where to comment – and where not to comment – I avoided commenting on any site that I knew to be, or thought could be a potential competitor. It's not likely to get me very far, and it's just plain rude.
Step #3 – I added genuine value
It might sound obvious, but I feel the need to clarify that when I was blog commenting, I wasn't just jumping from blog to blog leaving messages that said "Hey, come and look at this tool, it's the most awesome tool ever" (or for that matter, anything to that effect).
It was critical to me that I wasn't just going around leaving borderline-spam comments on every blog I could find. Just like commenting on a competitor's site, it's rude, and I have a reputation to uphold. Not to mention that genuinely useful comments were likely to (and did) result in far higher CTRs than comments that were practically pleading people to visit my site.
Naturally, this limited my reach slightly. I know a lot about this industry but I'm not qualified to comment on everything, and I don't try to pretend that I am. It meant that, in order to ensure maximum ROI, I had to adapt my approach. At least a little…
Thankfully, a good chunk of the posts I chose to comment on were lists of useful marketing tools. It was easy to contribute to these discussions because I literally did have to say something along the lines of, "Hey, great post, I really liked (list my favorite points from the post). It'd be great if you could take a look at my new tool, ContentMarketer.io, as well."

Of course, not every post was quite so easy to add value to. Beyond "best of" lists, I looked at posts that spoke generally about content marketing.
On these posts, I would take the time to actually add to the discussion. I wasn't spamming or anything; I was just finding points, ideas, or tips that I could add to or offer an alternative viewpoint on.
Lastly, there were posts that either:
I thought were so awesome there was nothing more to say, or

I didn't feel qualified enough on the subject matter to justify adding anything
In these cases, I left a simple comment to show my appreciation for the post. I'd only include a link if there was an opportunity to have my name link to Content Marketer – I wouldn't link from within the comment itself.
Did this last technique offer much of an ROI? Unsurprisingly, very little. However, it did drive some visits and the very odd lead. I'd put this down to someone recognizing my name and clicking through to see why that was.
I may be wrong there, but I know I don't go around clicking on people's names in blog comments unless I've been really impressed by what they had to say (and I don't see what anyone would find enticing or impressive about the comment "Excellent post, really enjoyed it, thanks so much for sharing.").
Step #4 – I carried on the discussion
It would be easy (really easy) to leave a comment on a post and click away, never to be seen again. But that would limit your reach and increase the chance of your comments being flagged by Google as an attempt at manipulative link-building.
I am, of course, making an educated guess here. It's hardly ground-breaking news that Google frequently detects manipulative link-building by identifying unnatural patterns in a website's backlink profile.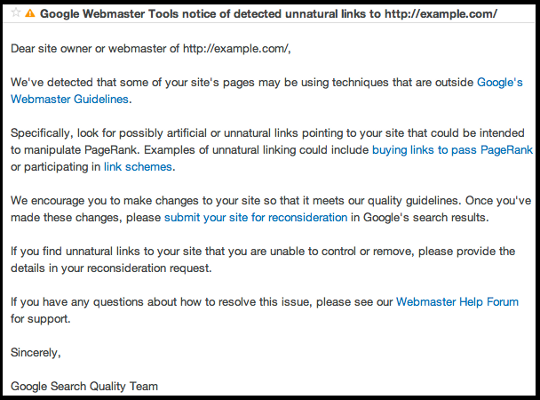 It also (to me, at least) seems obvious that one blog comment link on 1,000 different sites just doesn't look natural – because who reads (and comments on) 1,000 different blogs unless they have an ulterior motive?
So, my take on blog commenting for lead generation is that you should become genuinely involved in the discussions that are happening on the blogs you're commenting on.
Don't leave 300 comments on 300 different posts – leave 300 comments on 50 different posts. It may seem counterproductive, but my experience and the results I've been able to drive have shown me otherwise.
One comment on a popular blog post can easily get lost in a sea of other blog comments. If, however, you're actually, actively involved in the discussion, your name will repeatedly pop up, and people are far more likely to pay attention to what you have to say.
Even if your comments themselves don't include a clear URL or anchor text link to the site or content you're trying to promote, the more familiar people become with your name and the more they come to respect what you have to say and add to the conversation, the more likely they'll be to click on your name (which you've linked back to whatever you're trying to promote) to find out more about you.
If you take the time to get truly involved in these discussions, this becomes a brand-building exercise in its own right. I'll let you in on a little secret: I didn't just generate 513 leads for Content Marketer through blog commenting; I actually made a number of new contacts, got my name in front of tons of new people, and even landed a couple of guest posting spots.
You wouldn't ignore comments on your own blog (or I hope you wouldn't, anyway) so why do it on anyone else's blog?
Every time you post a comment to a blog, make sure you're set-up to get notifications each time someone else comments, too. If that's not practical (say the blog post is so busy you'd be inundated with notifications, or the functionality just isn't available), then try to keep track of when and where you leave comments, and check back to those posts regularly so that you can follow up when needed.
Other benefits of blog commenting
Even if you're not trying to promote anything in particular, there are still benefits to be gained from blog commenting. Let's take a quick look at them…
Raising your profile
Blog commenting is an excellent way to get your name out there; however, just like blog commenting for lead generation, when you're commenting to raise your profile you need to target the right sites in the right way.
Comment on popular blogs on (relatively) popular posts. A celebrity wanting to get snapped by the paparazzi wouldn't head to a low-key hideaway – they'd go where "people go to see and be seen."
If you want to be noticed online, the same rules apply. The bigger the readership, the bigger the potential for people to read your comments and take note of who you are.
That said, if a blog post is inundated with comments, your own comment is likely to get lost in a sea of noise. Stick with the big-name blogs, but try to pick posts that aren't attracting floods of comments, but just enough for you join in and contribute to the conversation.
Add genuine value. Respect is earned: if you want to gain the respect of people in your industry, you need to demonstrate why you deserve it. Simply stating "Awesome post" and glossing over what you agree with just won't cut it. You haven't added anything to the conversation, so why would anyone pay attention to what you have to say? Short answer: they won't.
Instead, take the time to expand on what the writer has already explored, offer complementary information, or even – if appropriate – a contradictory point of view.
Use gravatar. Gravatar links an image of you with your name, so that your image follows you from site to site appearing beside your name. This is critical if you want people to remember you – it's widely known that we can recall faces far better than names.
Building relationships
While you're busy building your profile on some of the big-name blogs in your industry, it'll come naturally to build relationships, too.
If you're regularly visiting and commenting on the same sites, you'll likely build a relationship with the owner of that site. This does, of course, depend on a couple of factors:
Who's writing the posts on these sites?
If you're commenting on a big, big site (say, Entrepreneur) chances are, each post you're commenting on has been penned by a different author. This lack of consistency will make it difficult to build a relationship of significance with anyone.
On the plus side, it's pretty easy to get around this predicament. You can always follow a particular author on a particular site, or, simply comment on sites that are manned (primarily) by a single person.
Are you actually getting involved in the conversation?
This brings me back, once again, to the point of actually adding value to the conversation. There's nothing wrong with complimenting the author if you like the post (hey, I won't lie – I love it when people praise me in my blog comments). But… in terms of actually building a relationship with that author, purely praising them won't get you very far.
It's the difference between complimenting a stranger and actually engaging them in a conversation. The first might make them smile, but they're unlikely to remember you for very long. Speak to them for a few minutes, however, and chances are you and your exchange with them will stick in their mind. At least for a while.
Gaining ideas for posts
No single blog post is ever going to say everything there is to say about a given topic; instead, the conversation will likely continue into the comments. These conversations can be blog-post inspiration gold.
Just take a look at the comments in this TopRank post that I commented on. Within those comments alone, there's enough suggestions for tools to fill a short follow-up post or even a series of posts.
You'll also often see commenters asking questions; some of which could require a follow-up post to answer properly.
Bonus tip: If you do base a blog post on content you've acquired through a comments section, seek the buy-in of the original post's author and encourage them to share your post once it's finished. Better yet, ask the original author whether they'd like to host your follow-up as a guest piece on their site to help the piece get more question.
And last but not least…
Learning
If you tend to skip over comments sections unless you've got something to say yourself, stop, sit back, and take a moment to smell the roses.
As above, a single blog post never tells a complete story – you can often learn a lot by sticking around to read the comments and see what else people have to say on the topic.
Naturally, some blogs are better than others when it comes to added value. Personally, I always like to stick around for the comments on the Moz blog. Yeah, you get a fair share of people that are just commending the author on a job well done, but there are also some really smart minds jumping in and out to offer some really useful, additional info.
So stick it out. Check out the comments sections of blogs in your industry, whether you comment or not. The results, in terms of lead generation, education, inspiration and more will be well worth it.
Do you use blog commenting as a marketing or lead generation tool? If you do, don't stop now – let me know how you're utilizing it and what sort of results you're seeing in the comments below: