SEO strategy websites are notorious for doling out overly-general advice without taking the time to either explain why it's important or offer concrete advice on how to implement these tips across your own web projects.
So today, we're breaking the mold by dissecting the popularly-held belief that you should vary the anchor text used in your SEO back linking efforts in order to create a more natural-looking back link profile.  In this article, we'll cover the theory behind this oft-cited piece of advice, as well as various experts' take on the best way to control your back link anchor text for maximum SEO benefit.
To understand why SEO strategists believe it's important to vary your anchor text, we first need to step into Google's shoes.  Google's ultimate goal is to provide the best possible search results whenever its users stop by the website and enter their keyword phrases into the search box.  As long as Google's results are better than its competitors, people will continue to use Google over sites like Bing, Yahoo and smaller search engines – resulting in more money in Google's pockets.
But since Google's index is mostly built by robots – not highly-trained website analysts – Google must rely on indicators of quality to identify which sites provide the best value to users.  A robot can't read each post on your site and objectively determine if it's higher quality than another site it just indexed – instead, it must look for clues that indicate how highly other people regard your content.
One such clue is the number and strength of the sites linking back to your content.  In a perfect, non-commercial world, a back link represents a vote of confidence – that is, another website is saying, "I think your website content is good enough that I'm going to recommend it to my own readers."  As you get more of these "votes of confidence", your perceived authority grows in the eyes of the search engines, leading to more rankings in the natural search results.
Of course, as you well know, this process rarely operates that cleanly.  Website owners long ago figured out that the SERPs could be gamed in this way, which led the search engines to up their game in terms of weeding out spam sites that manipulate back links in order to artificially inflate their rankings.  For this reason, most SEO experts recommend making your profile of back links appear as natural as possible to avoid the penalties assessed on those sites identified as being scammers.
One element that plays a role in how natural your link profile appears is the variability of the anchor text you use in your back links.  Because there's an SEO benefit to having your target keyword included in the anchor texts of your site's incoming links, there's a temptation to include the same anchor text in every back link you create.
But think about how a website with no commercial intent would grow its link profile naturally.  Sure, there's a chance that some target keywords would be used as anchor text by these referring sites randomly, but in general, there's going to be a wide variety of different anchor texts used in your natural link profile.  Now, contrast this link profile with one built by an SEO who attempts to take a top SERP ranking by including the same anchor text in every link he creates…
So since we know that Google and the other search engines sometimes assess penalties for over-optimization as triggered by obvious attempts to scam the search algorithms, it's clear that it's a good idea to vary the anchor text of the links you create.  But do you need to vary the text of every link you create, or can you occasionally repeat different snippets of text?  And if you do need to vary your anchor text, how different do your chosen anchor texts need to be?
First of all, let's get one thing out of the way.  Since the search engines are never going to reveal the exact calculations that go into their algorithms, we're never truly going to know for sure the extent to which anchor text variation matters.  And although some experts have speculated on how much variation is necessary, it's also worth remembering that ideal variation levels may differ by industry and may change at any time.  Your results may vary when implementing this advice, which is why it's important to carefully monitor your site's performance and make adjustments to your linking strategies if you see your rankings falling.
With that out of the way, it's important to recognize that we're dealing with two separate issues here:
How often you should repeat specific keyword phrases as your back link anchor text, and
How different your anchor text variations need to be.
Essentially, the goal here is to determine what percentage of the back links you create should contain your target keyword phrase, and what percentage should contain variations.  As you might expect, there's plenty of differing opinions regarding this topic.  Here's what a few of the experts in the SEO field have to say:
Joost de Valk, of Yoast:
"If all links, or a too large percentage of links to your site and / or page have the same anchor text, you'll look like a spammer. So if you're actively link building, vary your anchor text."
Nichola Statt, of Search Engine Watch (speaking on a fascinating study of anchor text variation amongst the Top 10 Google results for the keyword "outdoor clothing"):
"In this case, it's interesting to note that sites with the highest numbers of target-keyword-as-anchor appear in the latter half of the top 10. Could it be that keyword focused anchor text isn't as strong a ranking signal as previously held? In this case, there's still a considerable correlation of 33 percent between number of keyword anchors and site position, though it's interesting that the brand correlation in the previous graph is double."
Rand Fishkin, of SEOMoz:
"I'm a little skeptical about [fluctuating anchor text], not because it's not potentially useful, and it should be a natural thing if you're going out and doing white hat types of link building and inbound marketing. But because the primary reason I think most SEOs do this is so as to not trigger pattern matching problems in the engines, meaning if every website that's linking to me says Portuguese cooks, that's suspicious, highly suspicious. That suspiciousness is the feature that people are trying to prevent."
Unfortunately, this doesn't give us a lot to go off of.  In fact, one of the few instances where we can see concrete numbers applied to the question of how often you should vary your anchor text comes from SEO analyst Ross Hudgens, who writes:
"At times early in my career, I would start hitting my main keywords one out of six links, even though the all the variations were really close to the main iteration. Even though the other five were derivatives of the 1st, this ratio was too thin to make a real impact on competitive keywords."
Keeping in mind that we can, by no means, take Hudgens's results as a rule that will work automatically across industries, it does give us a starting point.  Using these results as a guide, we can begin by experimenting with anchor text variations on fewer than 1/6th of our back links.  If no penalties are assessed, we can then decrease the number of variations over time (ie – progressing to variation on four out of five links, then three out of four links and so on) until we start to see declines in rankings and traffic.
As for determining what anchor text variations to use, one way to uncover keyword phrases that Google views as substantially related comes from the search engine's own "Related Searches" tool.  To find potential variations for your anchor text, go to Google and type in your target keyword phrase.  On the search results page, you'll see an option called "Related Searches" appear in the left-hand sidebar: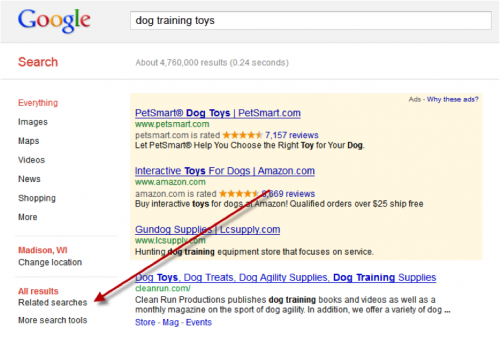 Click on "Related Searches" and a list of keywords that Google deems related will appear at the top of the search results: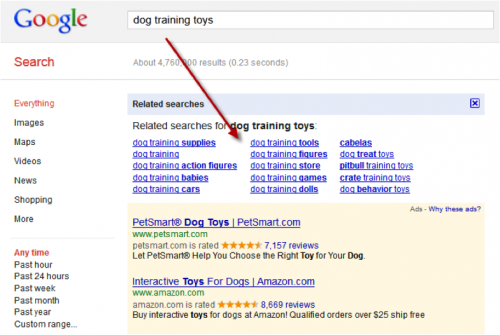 Any of these potential keywords could be used as anchor text options in your variation scheme, although it's a good idea to choose the ones that seem the "most" relevant overall to increase your chances of ranking in relevant SERPs that will be most appealing to potential readers.
Again, all of this is speculation, based on both expert advice and our own experiences getting sites ranked within the search engines.  While it's a good idea to vary your back link anchor text in order to create a more natural-looking back link profile, it's also important to carefully monitor your site's performance to ensure that no penalties are being assessed for over-optimization.
Using the results of this observation, you should be able to uncover the optimal anchor text variation density that enables your site to rank highly in the SERPs and generate tons of traffic back to your site.
Image: vasta