Why are you doing content marketing?
"Because our competitors are…"
"To gain exposure…"
"Because I was told I had to…"
I ask this question a lot, and the above answers are pretty typical of the sort of response I hear.
Of course, every company wants to gain exposure and drive people to their website, and if enough people tell them content's the way to do that, it makes sense that – at some point – they'd choose to go down that road.
However, while exposure and visits – and even email sign-ups and social growth – are all great to see, in isolation, they're not going to make much of a difference to your bottom line (and they're definitely not going to convince the guys "up top" that content is worth investing in).
In order to maximize the ROI of your content marketing, you need to be converting these leads into something tangible – something that can be assigned a dollar value.
If you've not yet reached that point, don't worry – you're not alone. Recent stats show that although 93% of marketers are using content marketing, only 9% of them deem it to be "very effective."
In this post, I'm going to take a look at why you're struggling to take your content to the next level, and what you can do to start converting the leads you capture and push yourself into that 9% of "very effective" content marketers.
Let's begin by taking a look at…
What's wrong with your content creation process
You're targeting the wrong people
Newsflash: content that's going to drive conversions has to target a demographic of visitors that are actually likely to convert. If you're successfully driving leads with your content, but none of those leads are converting, could the problem be that the content doesn't align with your target market? And that the resulting leads are unqualified and irrelevant as a result?
For instance, my tool ContentMarketer.io is aimed at marketers that are looking to scale and streamline their content promotion. I know that my audience is likely to be pretty experienced in both online and content marketing, so I make sure to consider this when crafting content for the site.
For instance, some of the recent posts I've written have included: "How to Secure Guest Posts on Big Publications (WSJ, Forbes & HuffPo)," "8 Quick Tips for Maintaining a Long Term Content Marketing Strategy," and "16 Quick Tips for Leveraging Viral Content."
These topics haven't been pulled out of thin air – they've been chosen for a very good reason: because they align closely with the interests of my audience and, consequently, drive targeted traffic with the potential to convert.
I wouldn't, say, publish a post like this to ContentMarketer.io. SujanPatel.com is a far more personal outlet (hence the name) and the site is aimed primarily at people who share my entreprenerial spirit.
If you want to create content that results in leads and – subsequently – conversions, your content must target the very same people that are likely to have an interest in, and want to buy your products.
You're not targeting visitors at all points of the sales funnel
There are, in general, four stages to the buying cycle: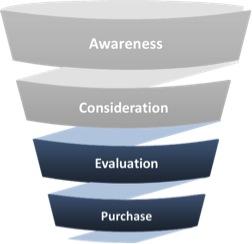 If you're not targeting visitors at each point of this cycle, you could be missing out on potential leads. Or, more importantly, the chance to convert them.
According to HubSpot, approximately 96% of visitors to your website will not arrive ready to buy. For this reason, you need to ensure that, wherever someone is in the buying cycle, you're producing content that serves their needs.
Let's say, for example, that you run a web design company.
You might choose to target visitors at the "awareness" stage by crafting blog posts around simple, query-based search terms. You'd keep these content pieces general at this point: the idea here is to provide answers to frequently asked questions, rather than push products.
Things like…
"What is Responsive Web Design?" or…
"How Web Design Works."
Next, you'd want to target visitors at the "consideration" stage. To do this, you might write about "10 Reasons to Get a Pro to Design Your Website" or "20 Tools to Teach Yourself Web Design."
The idea here is to subtly introduce your product as part of a resource-based blog post. Don't be afraid to offer specific advice about what you do – it just proves you know your shit.
eBooks work well at this stage too.
To target visitors at the "evaluation" stage and push them to the point where they're ready to buy, you might produce a data-led whitepaper that promotes the features and benefits of choosing your company to design their website over a competitor.
This approach ensures your site is rich in targeted content – whatever a visitor is looking for and wherever they are in the buying cycle.
You're not including specific CTAs within your content…
If you want your visitors to convert, the very least you can do is tell them. According to Sid Bharath, writing for Crazy Egg:
"I read many company blogs online and, while they're all very good (I only read the good ones), I don't know what some of them do. As in, I don't know what service or product they sell.
I assume they're blogging to attract new customers to their site but they don't have any email opt-ins or calls to action. So after I read their posts I just leave."
Sid's a highly-qualified lead for the blogs he reads – he's returning time and again to the same sites, so it's obvious that he enjoys their content and has a need for it. Assuming they don't want Sid to just read their content and leave, the sites in question are missing a huge trick in failing to tell him what they do want him to do.
Although personally I think it's crazy not to include CTAs within content, I can kind of understand why some webmasters are reluctant to. Primarily because:
They don't want to distract readers from the content, or

They don't want to appear salesy.
I get these objections, but that doesn't mean I agree with them. If your content marketing is designed to drive conversions, it has to include specific CTAs. You just need to be strategic about their appearance and placement.
Consider your attention ratio
"Attention ratio: the ratio of links on a landing page to the number of campaign conversion goals. In an optimized campaign, your attention ratio should be 1:1. Because every campaign has one goal, every corresponding landing page should have only one call to action – one place to click."
In other words: assign a single call to action to each piece of content. You can repeat this CTA, but don't confuse the visitor by asking them to perform multiple actions.
This circles back to my previous point. If you're correctly using content to target visitors at each point in the sales funnel, you should also be assigning each page a specific, solitary CTA. The type of CTA you include needs to "fit" the "stage" in the buying cycle that content has been designed for.
For example, if the content targets visitors at the "awareness" stage, your primary goal is (probably) to ensure that the visitor remembers you. You wouldn't ask a visitor at this point to buy something. Instead, you might want them to sign up to your email list, so you'd make that your CTA.
Make the CTAs as visible as possible, without being distracting
However, don't leave them to the end of your posts since most visitors never get there.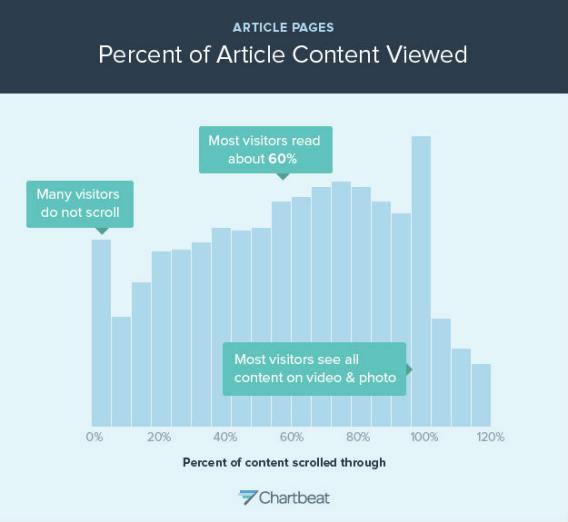 Yep, the majority of your visitors only make it 60% of the way through your blog posts, while 10% of visitors won't scroll at all. Leave your CTA to the end, and you're potentially missing out on a lot of conversions.
Instead, consider using a CTA that scrolls as the user scrolls. You can check out this approach in action over on Single Grain.

Or, incorporate a tool like SumoMe, which slides a non-intrusive CTA onto the bottom of a page once readers have reached a certain point in the post.
You're not making the most of your content and resources
It's one thing to end a blog post with a CTA encouraging readers to join your mailing list or download your eBook, but what if you could supercharge that CTA and increase your conversion rate by 785% or more?
I present to you, the content upgrade.
A content upgrade is where, instead of just saying, "Hey, you liked this so why not sign up to my mailing list and get more of it?" you offer the reader additional and most importantly – relevant – content, in exchange for their email address.
This tactic is so effective because it specifically targets visitors who have reached the end of your content. It's safe to say that if they've made it that far, they're pretty interested in what you have to say. So why wouldn't they want more of the same thing?
Backlinko tried this out and the conversion rate for their test page rose from 0.54% to 4.82% – an increase of 785% in conversions.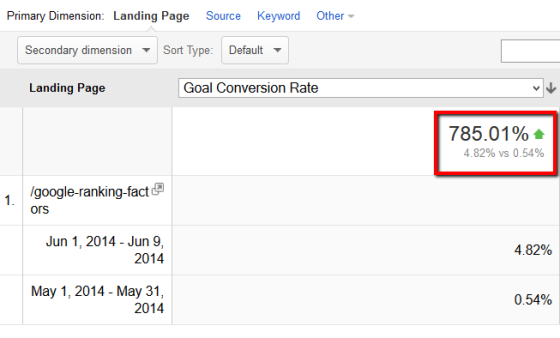 Unsurprisingly, Backlinko now uses the "content upgrade" regularly, and you can see it in action across their blog posts.
They end – and, in fact, start – this strategic SEO post with a CTA asking you to download a free checklist that shows you how to use the strategy in question.

While the CTA for this post offers something very similar (a checklist), it also comes with the addition of two bonus strategies.
And Backlinko isn't the only site to see success with this method. Videofruit tested out the same tactic and saw email opt-in rates increase from 20-30% to more than 60%.
If you're managing to get readers to your blog, but the relationship's ending there, why wouldn't you try this out?
Now, let's say you've tried all of these tips, and your content marketing leads still aren't converting. Let's take a look at the next place where you might be going wrong…
After you publish your content
You don't have a post-publication strategy
So, what actually happens after you publish your content? Do you have a clear strategy for promoting it and nurturing any resulting leads, or do you just hit the "publish" button and hope for the best?
If it's the latter… what are you doing?!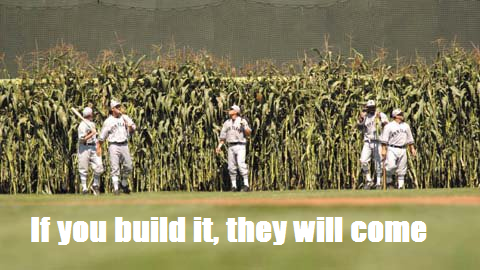 "If you build it, they will come" may have proved true for Ray in Field of Dreams, but in the real world, not so much.
A solid content promotion strategy is critical, even in gaining those initial leads – never mind converting them.
Many marketers advise spending as much time promoting your content as you do creating it. Derek Halpern of Social Triggers spends 80% of his time promoting content, and just 20% creating it.
However, promotion for promotion's sake won't cut it. You need to be strategic about promoting your content to the right audience, in the right way.
Utilize your email subscriber list. They've already expressed an interest in something you do – perhaps your latest content piece could be the one that persuades them to convert.

If you plan to promote your content by reaching out to influencers, focus your efforts on those that already have an audience which aligns with (but doesn't directly compete with) your own.

There's no harm in distributing your content multiple times to lots of different social channels; however, you'll want to be sure you're investing more time in the channels that are most likely to drive an ROI (especially if you pay to promote your content). This is by no means scientific, but

research by the Content Marketing Institute and MarketingProfs

found that B2B marketers believe LinkedIn to be the most effective social channel for content marketing, and Google+, the least.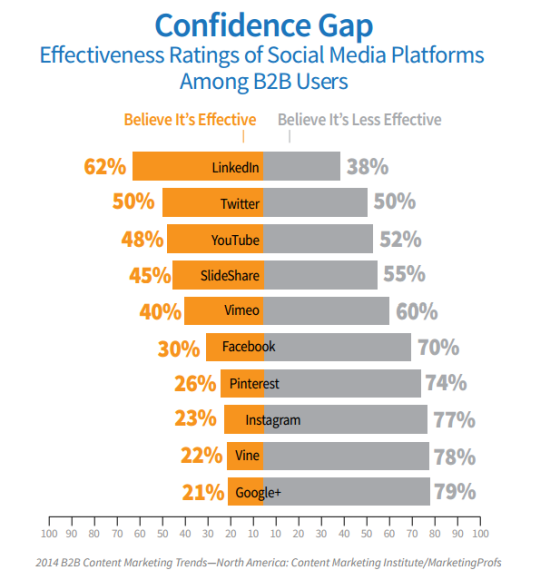 Your email marketing sucks (or, you're not using it)
Do you remember the days when a "you've got mail" notification on your computer would spark a surge of excitement? Yep, me too.
Well, email's changed a lot since then (thank you to all the Nigerian Princes and "lotteries" out there for helping make email what it is today. But, despite the fact that more than 70% of emails are spam, it's still a very, very effective marketing tactic.
In fact, GIGAOM found it to be the most effective digital marketing tactic available today.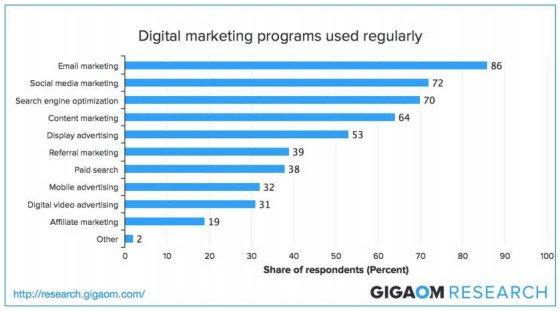 At the same time, the Direct Marketing Association estimated the average email marketing ROI to be around 4,300%.
This means that if you're not using email to promote your content to a qualified and engaged audience, you should be.
Of course, that doesn't mean firing off any old email will do. If you want to drive visitors to your content in the hopes that they'll convert, your emails have to be, well, good.
Here are a few data-backed tips and tricks for getting the maximum results from your email marketing campaigns:
Lead with a content type that's proven to trigger high click-through-rates.

Bluewire media found

templates and tools resulted in the highest click-through-rate, followed by eBooks.
Design responsive emails that look good on all devices (according to

litmus

, 49% of all emails are now opened on mobile devices).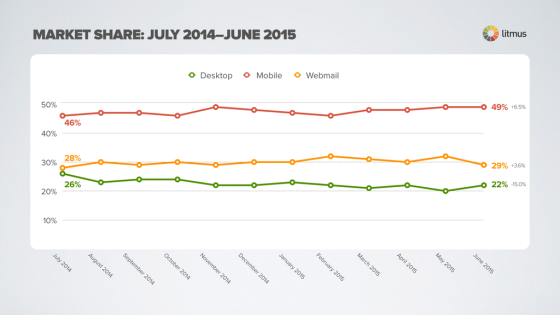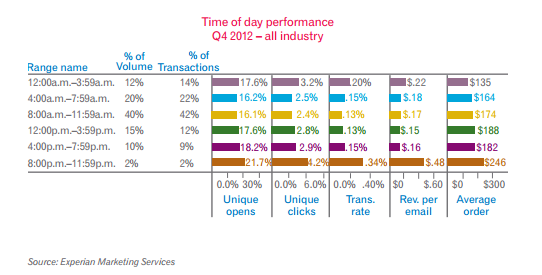 Email regularly – Listrak claim you have

90 days to turn a first-time buyer into a loyal customer

. We can apply this theory to subscribers who have yet to buy, too – the first 90 days after someone subscribes to your emails are key. Send them quality content, regularly, to build their familiarity with your brand and increase the chances that they'll eventually convert.
That said, every company – and every audience – is different. Always split test your emails to establish what achieves the best results for you. Email marketing tools like MailChimp make split testing emails really, really easy – there's really no excuse not to.
You're not utilizing remarketing
Remarketing (or retargeting) is the online equivalent of following a customer who has just walked out of a bricks and mortar store, shouting, "Hey, we're still here! Come and stop by again!"
That's an insane concept in the real world, but when executed online, it's pretty damn effective.
How effective, I hear you say?
Well…
A study from comScore found

that remarketing resulted in a 1,046% uplift in branded search queries.

Retargeted messages have

an average click-through rate

of 0.7%, compared to an average click-through rate for display ads of 0.07%.

A survey from

Adroit Digital

and

Toluna

discovered that consumer response to remarketing ads was overall positive or neutral: "thirty percent had a positive or very positive reaction to retargeted ads, vs. 11% who felt negatively about them. The greatest percentage, though – 59% – had a neutral reaction."
Considering that "96% of people who visit a website leave without completing the action the marketer would have liked them to take," remarketing is – if you ask me – a no-brainer.
Speaking specifically about using remarketing to promote content, Larry Kim said: "It's such a crazy effective marketing tactic I can't believe everyone isn't doing it… If you're not, you're not just leaving money on the table – you're throwing it out the door."
Enough said.
You're not learning from past experiences
When 600 marketers were asked how effective they believe their content marketing to be, only 7% of companies with a documented strategy stated it was "extremely effective," while just 2% of those without a documented strategy said the same thing.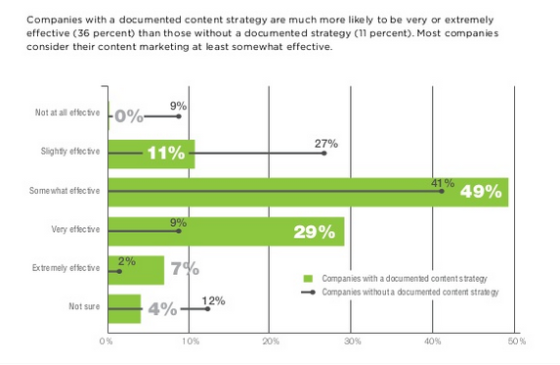 What I want to know is: what, if anything, are those marketers who aren't achieving top-level effectiveness (i.e. the vast majority) doing to learn from their content that wasn't as effective as it could be?
There's nothing wrong with making mistakes and producing content which, in hindsight, probably wasn't up to snuff. It's a learning curve which we all have to go through. And it happens to the best of us.
Hootsuite have fallen afoul of (and learned from) bad timing, text overload, and the use of niche language.
Once upon a time, Neil Patel hosted a forum on QuickSprout in the hope of benefiting from user generated content. He quickly learned that it was more trouble than it was worth and eventually, took it down.
Personally, I've learned that long posts (2,500 words +) that are data-led and rich in actionable ideas serve me best – but that doesn't mean that all my posts have hit these high standards in the past.
Problems only arise if we don't look at where our content has let us down and use this information to drive changes to our strategy.
If your content is driving leads, but those leads aren't converting, you need to figure out if the problem lies with the content itself or with another part of the process. Once you've done that, you can make the changes necessary to ensure you start seeing a real, quantifiable return on your investment.
And beyond the content…
Your website (or blog) sucks
This one's pretty self-explanatory: you could be creating some of the web's most awesomest content – content that's successfully driving lead after lead – but, if your website's letting you down, you're going to have a tough time getting those leads to convert.
The way I see it…
Your website should be integrated into your content marketing strategy. Your site and strategy should complement each other and be managed as one. Don't treat them as separate entities; they're both key elements of a well-rounded digital campaign.
It sounds simple, but it's so easy to get it wrong when the people designing your website have minimal or no interaction with your content team.
I think some of the best examples of sites that seamlessly merge their content marketing into their overall site design can be seen in SaaS sites like Freshbooks and particularly, Unbounce.
Their blogs look great – and are distinctive enough to stand up on their own – yet the design and navigation flows flawlessly between all areas of the site.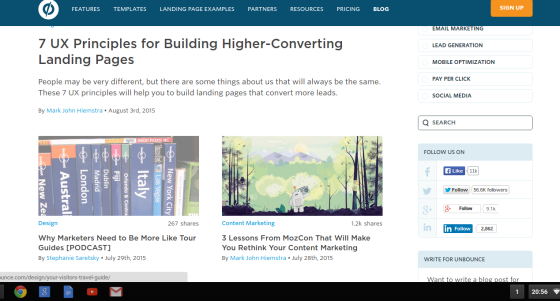 Don't tack your blog onto your site as an afterthought – if you want to produce content that converts, where that content will live is at least as important as every other page of your site.
Let's put this into action…
We've covered a lot of ground in this post, so to make life a little easier, read on for a quick checklist of all the above points. Use this to start putting a plan into action that will ensure your content does more than just drive visits and vanity metrics – that it results in conversions too.
Assess your blog design – does it "fit" with the rest of the website?

Can you navigate easily to all areas of the site, directly from the blog? If not, you could benefit from a redesign.

Focus your efforts on crafting content that aligns closely with the interests of your target audience and the questions or pain points they may have.

Create content that targets consumers at every stage of the (pre-purchase) sales funnel, including awareness, consideration and evaluation.

Incorporate specific CTAs into your content. Don't overwhelm your readers with multiple CTAs. Ensure your chosen CTAs are prominent, but not intrusive.

Build your email list with content upgrades.

Enhance blog posts with the offer of additional, highly-relevant content, in exchange for your readers' email addresses.

Implement a regular email marketing strategy.

Promote your content to people that have recently visited your website using remarketing.

Analyze every piece of content you create – what went right, and what went wrong – and use this information to influence future content.
Get these ten steps right, and you'll be well on your way to a blog that not only captures leads, but that converts them as well.
What other conversion-generating tactics would you add to this list? Share your recommendations by leaving a comment below: