Launching a community takes more than a "build it and they will come" mentality. It requires a strategic approach to growth. Using content marketing can help supercharge your community, but it also works in reverse: your own community can help give your content marketing a boost, whether you're promoting an ebook or new course product. Ideally, your community and content marketing should work in tandem to help grow your business.
Content marketing is worth it if you have a strategy in place that helps grow and nurture your community. Doing it blindly and producing content just for the sake of a few clicks is unlikely to be sustainable, but focusing on its fluidity and connecting its moving parts creates big gains. Here's how to really use content marketing to launch, engage and scale a community.
Launching Your Community
Laying the foundation for your community can feel completely overwhelming when you're starting from scratch, and can leave you wondering where to start. Your content strategy begins with clarifying your story, or writing down your values, to explore the type of community you want to build. However, it does require more than just a few well-researched and written ideas.
There are some steps you need to take to get started and launch your community with different types of content marketing:
Figure Out Your Business Values and Story and Decide on Early KPIs
Study your community and decide early on its key performance indicators (KPI). This step requires structuring your community around the core values of your business and its story. Your KPI might be centered around engagement or the type of specific contributions your community makes. For example, Moz uses metrics including Support, Product, Acquisition, Contribution and Engagement for their KPIs and continuously measures the results.
Write Key Messages
It may be time to take a step back and re-prioritize what's going on in your business. You could be focusing on the wrong things altogether. The crucial ingredient to building an engaged community actually has nothing to do with community; it's all about content. That content requires nailing down your key messages and stories to help build the engagement you've set your KPIs around.
Partner with Influencers
Rely on your own community members to help find influencers who can move your business forward. Salesforce developed their community through their strong base of community members. They leveraged those relationships to intentionally build their community and harness the power of influencers.
Choose Your Format
Before you start cranking out the same content as your competitors, look through your previous steps first. What will resonate the most with your community and hit the KPIs you set? Your audience may respond to blogging, engagement and regular posting within your community. Or your influencers and members may respond best to a private Facebook group or advocacy program.
Use a Calendar to Seed Conversations
Don't rely on your own will power and internal memory to seed conversations that matter to your community. Create an editorial calendar to help keep your content and conversations on track. Just as publications use editorial calendars, it's sometimes necessary to seed conversations on a set schedule to help spark, grow and maintain ongoing engagement.
Hone Your Voice As You Go
It's inevitable your brand's voice will change as your community evolves and comes together. Don't be afraid to evolve with it. Study how your community talks to each other and the unique lingo and tone they use. Rely on those conversational nuances to shape your voice and content marketing. But you'll also find those things will shift and change as you spend more and more time with your community. Let things flow, and focus on consistency in posting and generating content.
Focus on Early Engagement
Engaging your community from the start can help grow your business, but it can also require things that are effective but don't necessarily scale. That's not a bad thing: you may find that what's working well for that launch period is what gets people into your community and engaging with your content.
Here's a look at some of the tactics successful companies have used to get their own communities off the ground.
1-1 Coffee Chats
Don't be daunted by embracing tactics that you know won't scale, such as meeting for coffee with a potential community member or client. Quibb relied on one-on-one coffee talks to land their first 40 members and start growing. Quibb's founder, Sandi MacPherson, drove from Palo Alto to San Francisco to spend an hour with potential users. That type of time commitment doesn't look good on paper, but it was effective.
Gathering Founding Members for Public Launches
It's daunting to launch publicly and never generate enough interest to get things off the ground. Use your community to gain momentum and help nail those public launches. Course Hero used this tactic by working with local influencers and ambassadors to spread the word about their business before launching.
Offering Status Points
Sometimes all it takes is giving your community members some acknowledgment. Try calling out your best community members with badges or some simple praise so others will take notice and follow their example.
Making Introductions Manually
You don't have to wait for your community members to come to you. You can go out and email them one by one to get some traction and find your first members. Well-executed cold emails and follow-ups can warm up leads and turn them into lifelong connections. Dwilly's founder Kyle Crawford sent 300+ emails manually to make introductions and curate his first members.
Asking More People to Contribute
Have you ever stopped and asked the people in your community to contribute? Scalable Support Lead at Square, Caty Kobe, uses a super-simple but powerful secret to get more people in their community to contribute: she reaches out manually and asks them to contribute with something very specific. You can steal her technique and brainstorm ways your superstar members can lend their voice and start engaging.
Image: SquareUp
Listening More than Talking
Nothing replaces good old-fashioned listening in your community. The same goes for people engaging with your content marketing by leaving comments or sharing on social media. Stop talking so much and truly listen. Learn to read between the lines and absorb the pain points and struggles of your audience. Lend your voice and advice that's perfectly catered to what they need and win over fans for life.
Scaling Your Community
Knowing when to scale can be confusing, but your content (and community) requires a solid foundation to work and sustain itself. The time to start scaling is once your community is up and running and your engagement strategies are working.
However, one of the hallmarks of scaling is needing more advanced processes and technology to support you. As you scale with new types of content for your marketing efforts, you'll need to update that content calendar to make it more sophisticated. You'll also likely need to invest in more tools to automate or mature how you roll out scalable content and programming.
For instance, a "content stack" could include:
Zoom for webinars
Mailchimp for emails
Facebook Groups for user-generated content
Bevy for scalable events
Typeform for surveys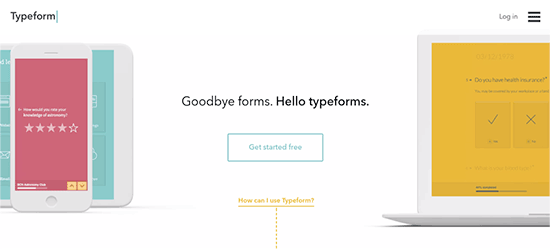 Image: Typeform
Webinars and Offline Events
Leverage webinars and offline events to draw your community and new members together. Both tactics can help your audience connect with your story face-to-face and in real time. And the results can be huge. OurCrowd in Jerusalem worked against the odds to earn back respect in an industry not known for trust—the financial sector. They quickly scaled with webinars and offline events to ultimately entice 7,000 people to invest over $100 million.
User-Generated Content
Here's a tactic content marketers who aren't particularly fond of creating scalable content themselves can use: rely on your own user content to market your business and community. Take a look at what BuzzFeed is doing. They successfully leveraged their community to produce user-generated community content fueling 100 million page views.
Ambassador Programs
Ambassador programs can work in a wide variety of industries, including ones that are largely underserved and primed for more representation. Namely took an underserved group of HR representatives and built an ambassador program to offer the resources and engagement they were lacking.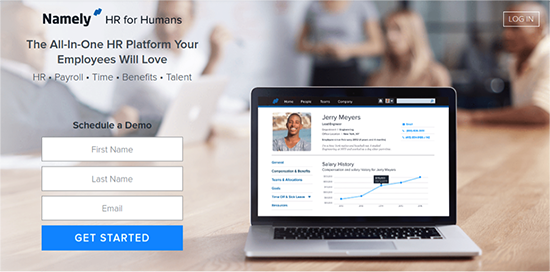 Image: Namely
Your ambassadors can also help build up your community by giving them more access to something highly valuable and unique to them. Pearson launched Student Insiders and attracted 1,200 members in three months by offering them insider access to professional opportunities and development. The experience helped members build their resumes and get the hands-on, real-world experience college students are looking for.
Support Your Community While Getting Out of Their Way
At some point your community needs the space to breathe and help steer the course. After all, community is about the members and the ecosystem they've created. Once everything is up and running and members are engaging, it's not about you anymore. It's about your members looking for success, whether that means finding solutions to their problems, accelerating their careers or looking to network with their peers. Sometimes the best thing to do is get out of their way so they can succeed.
How do you use content marketing to launch, engage and scale your community? Let us know by leaving a comment below:
Image: Pixabay