Sure – I understand that running a business is difficult.  If you're a company owner, you likely have hundreds of different items already on your "to do" list – from developing and testing your product to reaching out to consumers using various online and offline marketing strategies and more.
However, if you spend all of your time focused on your own internal affairs and put no energy into consuming the content that others have created, you're missing out on a huge opportunity to learn and develop as an entrepreneur.  To get in the habit of making ongoing education a priority in your business, check out the following blogs, find a few that you like and set a goal to check in with their posts at least once a week for best results.

Pando Daily
According to Pando Daily founder Sarah Lacy, "We have one goal here at PandoDaily: To be the site-of-record for the startup root-system and everything that springs up from it, cycle-after-cycle."  In simpler terms, Pando Daily covers a huge range of interesting topics for entrepreneurs, featuring content from top tech bloggers Michael Arrington, MG Siegler, Paul Carr, Farhad Manjoo and others.
LinkedIn's "Today" blog is another great source of general interest information for small business owners.  It's updated daily (as you might expect), making it a good place to find tech industry announcements, social site change information and other current entrepreneur-related topics.
The Brazen Careerist blog, co-founded and written by author Penelope Trunk, calls itself, "A career-management tool for next-generation professionals."  But far from being a dry repository of job-seeking advice, the Brazen Careerist offers content on everything from negotiating to navigating office politics to balancing your entrepreneurial career with your personal life.  Overall, it's an incredibly refreshing take on navigating the complexities that entrepreneurial life presents.
The Church of the Customer website is written by Jackie Huba & Ben McConnell and ranks as one of the most popular business blogs in the world.  It's packed full of business-specific topics, with posts on everything from advertising to social media to word of mouth presentations.  To get a feel for the blog's style, take a look at "Exposing stealth marketing" – one of the site's top posts.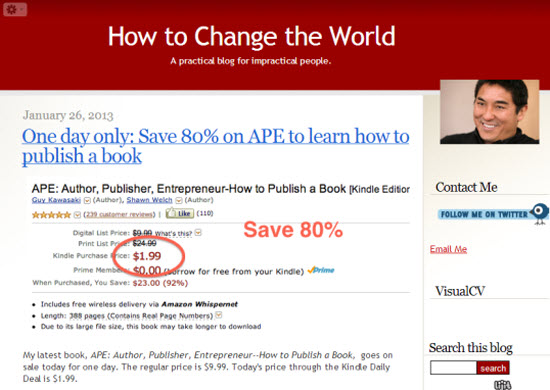 How to Change the World is entrepreneur Guy Kawasaki's blog – and that alone should be enough to convince you to add this site to your RSS reader.  Guy is a former Apple chief evangelist and current co-founder of Alltop.com and other entrepreneurial ventures, so it's no surprise that his site is packed with tons of great insight for aspiring entrepreneurs.  Check it out today!
The "Daily Dose" column on the Entrepreneur website is one of my favorite business blogs because it's so easy to read and digest.  All you have to do is stop by, check out the day's article and consider the lessons distributed by the one of the industry's best business magazines.  Easy as that!
Blog Maverick is the internet home-base of Mark Cuban – another top entrepreneur who's been involved in everything from professional sports to venture capital financing.  He's a fascinating guy, and his blog is full of great information for entrepreneurs that's written in a compelling, interesting-to-read way.
Small Business Brief is an entrepreneurial news aggregator site that includes both original content and business-oriented articles pulled from other sources.  Like the Entrepreneur "Daily Dose" blog, it's full of short, easy-to-read articles that make it easy to add business education to your busy entrepreneurial schedule.
Though its title implies a narrow focus, Brian Clark's Copyblogger site goes well beyond the topics of copywriting and blogging.  Instead, the site is designed to help website owners make their content as effective as possible – something that all small business owners stand to benefit from.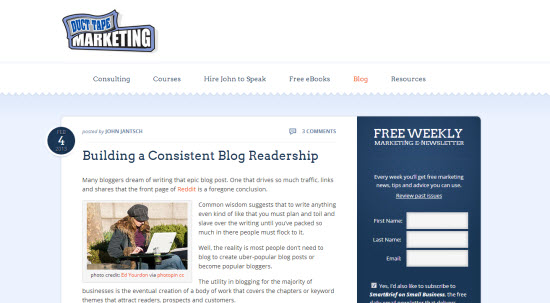 If you're looking for small business marketing ideas and strategies that can bring about measurable results for small business owners, look no further than the Duct Tape Marketing blog and the Duct Tape Marketing system it describes.  Run by marketing John Jantsch, the site has been recognized by both Forbes and Fast Company magazines for the quality of the advice it provides to entrepreneurs seeking promotional assistance.
The Entrepreneurial Mind is a site that's run by Dr. Jeff Cornwall, the Jack C. Massey Chair in Entrepreneurship at Belmont University.  Dr. Cornwall's posts tend to skew more towards the philosophical side of entrepreneurship – rather than the actionable strategies side of things – making it a great intellectual counterpoint to the business-building advice that can be found on other sites.
The Venture Hacks website describes itself as providing, "Good advice for startups" – and that's exactly what you'll get from founders Nivi and Naval.  Though the blog isn't updated all that frequently, you can receive plenty of current insight by following Venture Hacks on Twitter and Facebook.
Seth Godin is a content creator and business strategist who blogs every. single. day.  I have no idea how he does it, but it doesn't matter.  What does matter is the caliber of the content he pumps out on his blog and how much of a difference his recommendations can make in the growth of your business.
Get Elastic pushes out ecommerce tips, tricks, news and commentary three times a week, making it a great "how to" resource for entrepreneurs whose businesses involve an ecommerce component.  To get a feel for the site's style, start with "The 91 Point Ecommerce Optimization Checklist [Infographic]".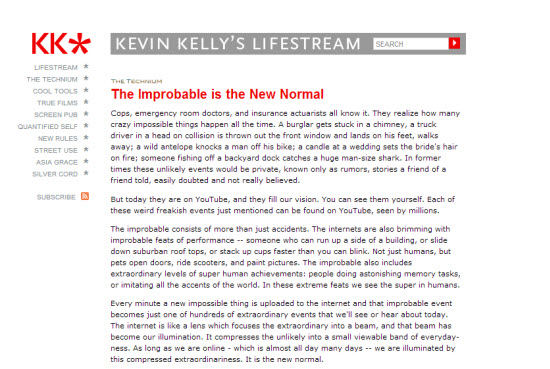 Kevin Kelly's Lifestream blog offers insight on everything from entrepreneurship, global enterprise and human interest issues, making it an interesting stop for business owners who are looking for a more well-rounded blogging experience.  With a background in everything from documentary films to business management to language learning, it's a truly fascinating collection of essays that all entrepreneurs can benefit from.
The purpose of this site is fairly self-explanatory – click on to the site, get simple tips to implement on your startup's marketing strategy.  Backing up this simple premise is owner Drew McLellan's 25+ years as a marketing agency veteran, where his experience and skills have allowed him to work with top-tier clients including Nabisco, Kraft Foods, John Deere and more.
For Entrepreneurs is a blog run by David Skok – a "five-time serial entrepreneur turned VC."  Through its posts, the site aims to provide insight on all the different issues startup owners face, including getting started, getting funded and building a successful company.  It's a very practical resource that all entrepreneurs should have on their "must read" lists.
I'm a big fan of advice that's based on personal experience, which is why I love Eric Ries's blog "Startup Lessons Learned.  Eric is the creator of the popular "Lean Startup" methodology, and his past experience as an entrepreneur, startup advisor and VC consultant really shines through in his informative, yet realistic blog posts.
The Art of Ass Kicking – written by gymnast turned marathon runner Jason Shen – isn't just for entrepreneurs, but every startup owner I know can benefit from the "be awesome" advice found on this site.  To see what I mean, check out one of Jason's top posts, "How to be Relentlessly Resourceful [A Practical Guide]".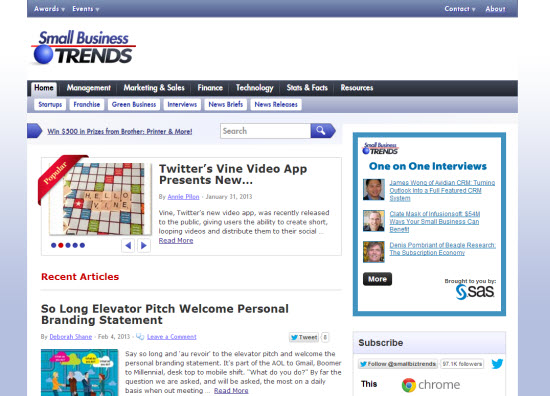 Small Biz Trends is a popular entrepreneurial website that's been up and running since 2003.  The site features hundreds of expert contributors, all of whom bring their personal experiences to the site in order to create a massive collection of news articles, tips, startup advice and recommended resources.  Check it out if you're a small business owner or somebody who works with these types of people!
Founded by young entrepreneur Andrew Warner, Mixergy features a fascinating combination of informative blog posts, interviews with entrepreneurial super stars and premium content on everything from bootstrapping to copywriting and more.  Of course, maybe I'm biased, as the site featured a lengthy interview with Single Grain co-founder AJ Kumar last year J
On Startups is tailored exclusively to software startups, though entrepreneurs in other industries may still find some of the general business info interesting.  With over 70,000 fans on Facebook, it's a safe bet to say that this site deserves a spot in your business RSS reader!
Steve Blank is an entrepreneur who credits himself with having, "two large craters, one dot com bubble home run and several base hits."  Basically, he knows what he's talking about!  Recently credited by Forbes as one of the "30 most influential people in Tech," Blank's blog is packed with everything from technical insights to general business advice that should be useful for every entrepreneur out there.
As you might expect, a site titled "Under 30 CEO" features loads of content designed to help young entrepreneurs find their place in the business world at large.  Including everything from business tools to interviews with successful young entrepreneurs to useful startup advice, it's a great entrepreneurial reference – even if you don't fall into the site's target demographic!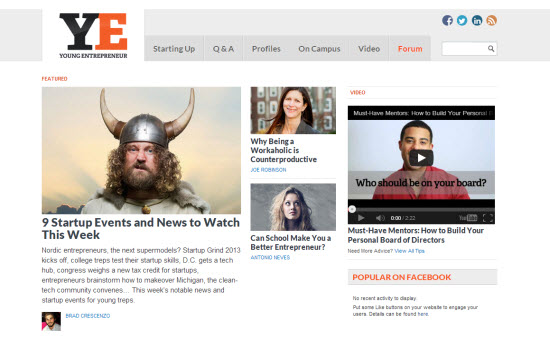 Similarly, the popular Young Entrepreneur blog starts out with a focus on new business owners, though the content shared is applicable for entrepreneurs of all ages.  Recent home page articles on the site include "Why Being a Workaholic is Counterproductive," "Can School Make You a Better Entrepreneur?" and "Richard Branson on Dealing with Setbacks" – all of which are perfectly relevant for business owners of all ages.
Brad Feld is a managing director at VC firm Foundry Group and the co-founder of the popular TechStars startup accelerator program.  Needless to say, he's pretty much seen it all – and his wealth of knowledge and insights is on display on his Feld Thoughts blog.  Check out his site for articles on everything from lessons learned by TechStars participants to discussions on the impact of governmental changes on the entrepreneurial community.
The Social Media Examiner blog covers a wide range of social media marketing topics, including advice on managing your presence on Facebook, Twitter, Pinterest, Google+ and more.  Most of the articles on this site are geared towards actionable steps that even the greenest of business owners can follow – so take a look if you're new to understanding how this popular promotional technique can help grow your business.
The tagline for the "A Smart Bear" blog is "startups + marketing + geekery" – so you know it's a site that I'm happy to spend time on!  Blog owner Jason Cohen is a successful entrepreneur in his own right (you might know him from the startups SmartBear and WPEngine), which is what makes the business philosophy and advice shared on his blog so valuable for entrepreneurs to read.
Paul Graham's site isn't a blog as much as it is a collection of essays on various entrepreneurial topics.  That said, it's still a damn good resource to reference whenever you have a few extra minutes.  Browse through Paul's past essays, find one that interests you and apply the lessons he shares to your own startup to maximize your business success.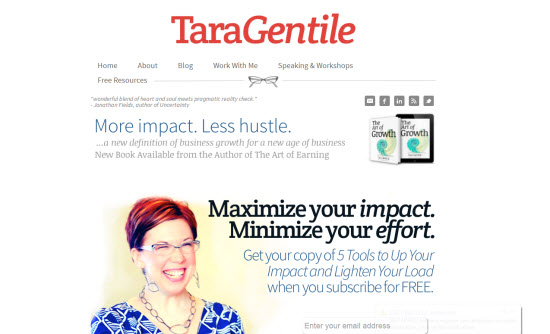 Tara Gentile is a popular business coach and author who's helped tons of small entrepreneurs understand their business goals and accelerate their progress.  Her blog tends towards the philosophical – rather than the actionable – so it's a great place to stop when you feel like you need a mindset adjustment.
All small business owners need to understand web analytics and metrics tracking, and the KISS Metrics blog will teach you these topics and more.  While many of the blog's recommendations center around the use of KISS Metric's in-house analytics program, most of the advice found on this site can be adopted by any entrepreneur who's interested in learning more about his customers and their needs – regardless of which specific tools you're using.
I may be partial to Neil Patel's QuickSprout blog, as Neil's one of my personal mentors and a partner at Single Grain.  But don't let that cloud your judgment of his site!  Neil's site is one of the best resources out there for learning online marketing, given the range of subjects he covers and the level of detail his posts provide.  Check it out if you're anxious to start seeing better results from your own small business website!
The Social Triggers blog is run by Derek Halpern, who bills himself as an expert on data-driven marketing and content marketing.  What I love about this site is how actionable his advice is.  You won't find fluff pieces on how to improve your site's conversion rates here – instead, Derek's blog is jam-packed with the tutorials and instructions you need to take your site to the next level.
Killer Startups is another "general interest" blog that provides valuable information for entrepreneurs on a huge variety of subjects.  Categories on the site include "Startup Spotlight," "Bootstrapping Success" and "Startup Tools & Guides" (among others), making it a great resource for business owners who desire a wide range of blog post styles.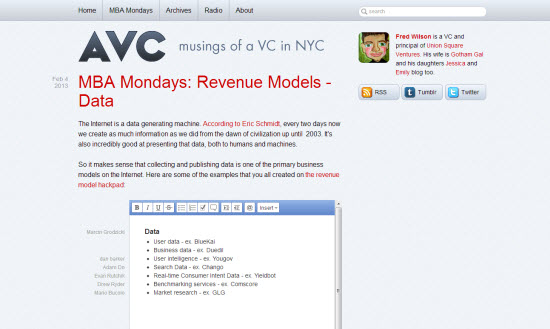 AVC is the blogging home-base of venture capitalist Fred Wilson, a managing partner of VC firms Flatiron Partners and Union Square Ventures.  The posts on AVC tend to be a bit more technical and in-depth than the general interest articles found on other sites, but if you're an entrepreneur who's actively seeking financing, the site provides great insight into what VCs look for in a young company.
For more "from the trenches" insight, you'll want to take a look at the Both Sides of the Table blog, written by "entrepreneur turned VC" Mark Suster.  It's a great compilation of both tech-oriented business articles and personal musings from somebody who's "been there, done that" in the startup world.
Considering that the site bills itself as "Perspective, Pontification and Propaganda about Entrepreneurship and Venture Capital, brought to you by David Hornik of August Capital," it's no surprise that the articles found on VentureBlog tend to be a bit academic in nature.  Given David's experience, they're all valuable reads, but expect to be challenged intellectually by most of the posts on his site.
One final "from a personal point of view" blog that I want to share with you is Ben Horowitz's site.  Ben is the co-founder of the Andreessen Horowitz VC capital firm based in Menlo Park – so, as you might expect, his blog is full of great tips based on real, personal experience.  For an interesting glimpse into VC life, take a look at Ben's popular post, "How Andreessen Horowitz Evaluates CEOs."
Wise Bread isn't an entrepreneurship site at all – it's a personal finance website with tips on everything from saving more to managing debt.  However, that doesn't mean that the great information shared on this site is irrelevant to an entrepreneur's interests.  As I've discussed in my "How to Live Life 3x as Fast as Normal" post, being able to manage your money well is a crucial part of maximizing both your personal and professional lives.  If your financial house isn't currently in order, the tips found on this site can definitely help to get you where you need to be.
Finally, you probably already know that efficiency is critical for the startup entrepreneur who's trying to juggle everything from R&D to marketing to personal needs.  And when it comes to tips that'll help make your life even more effective, Lifehacker is tops.  I've picked up plenty of great tips from this site – and once you give it a quick glance, I'm sure you will as well!
Now, keep in mind that you don't need to read every single one of these blogs on a daily basis.  Although keeping up with industry websites is good, spending too much of your time reading other peoples' work prevents you from getting your own tasks done.
Instead, browse through these sites and see which authors and teams resonate most with you.  Choose a handful of sites and make it a weekly action item to look through them and implement the tips and lessons you come across in your own business.  Over time, the exposure to these external ideas can make a big difference in how quickly your own business develops and grows!
Got another favorite entrepreneurship blog?  Obviously, this list isn't comprehensive, so if you've got your own "go to" site, share it in the comments below!