On his Quicksprout blog, Neil Patel once compared content marketing and SEO to "peanut butter and jelly," saying, "you can eat them on their own, and they are delicious… but what happens when you combine them? They complement each other, right?"
Even if, for some unfathomable reason you don't actually like peanut butter and jelly sandwiches (if you have a peanut allergy, I'll let it slide), you'll probably still understand the analogy: on their own, peanut butter and jelly are both pretty awesome, but put them together and you have… culinary perfection.
The same can be said of content marketing and SEO (except, perhaps, the culinary part). They can each exist in isolation, but the best and most effective online marketing strategies contain both.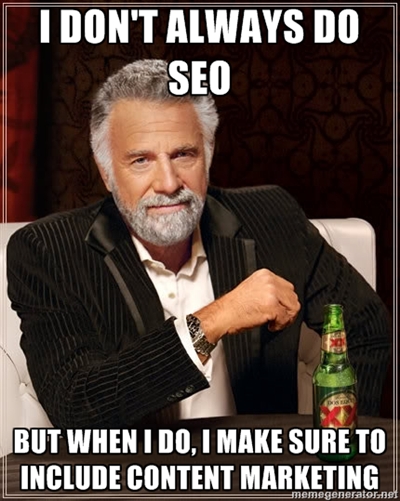 Many of the more technical aspects of SEO (I'm thinking on-page here) are as important today as they ever were (if not, even more so). Best practices in this area haven't really changed that much, either.
Off-page SEO, however (namely, link-building), has evolved exponentially. Back in the day, you could rely on automated directory listings and article marketing links to see you climb up the rankings.
Today, though, content marketing is a fundamental link-building tactic for most SEOs, and while link-building might not be the only reason marketers would choose to invest in content, it is a pretty big one.
Understanding how intertwined SEO and content are, and how content can impact your search presence, are the first steps in incorporating SEO best practices into your content marketing. Let's take a look at 15 more… Continue reading → 15 Strategies for Incorporating SEO Best Practices into Your Content Marketing