Only 50% of startups (give or take) make it to 5 years. By 10 years, 70% have failed. There are many contributing factors to these failures, from a poor product or bad timing to a lack of customer care or simply poor business acumen.
Often, however, bad marketing (or non-existent marketing) is at least partly to blame. If this rings true for you, implementing a strategy designed specifically to drive rapid growth might be the solution.
Here are examples from 7 companies that did just that – and what you can do to implement similar growth levers in your business.
1. Pinterest
Growth lever: Driving excitement through exclusivity.
Launched in 2011 with an invite-only sign-up policy, the image-led social platform remained that way until August 2012.
I think we can safely assume that this was done in part for damage-limitation, so they could control user numbers while the team ironed out kinks in the system. Grow too much, too soon, and they risked sullying their reputation before they'd really had a chance to start building one.
However, in May 2012, Pinterest raised $100 million in investment – a sure sign that they were on the verge of something big – and yet, the invite-only sign-up policy remained.
Why?
Because by restricting sign-ups, they increased the appeal and value of an account. This got people talking, and ensured that the company's growth jump-started the moment that policy was lifted.
Key takeaway: Create excitement around your product by limiting user accounts, at least initially.
2. PayPal
Growth lever: Buy users.
When PayPal launched, its growth strategy was simple: buy users. They began by offering a $20 incentive to every new user. As a result, their user base was growing 7-10% a day.
They later dropped the payment to $10 and after that, $5. They also matched that payment when a user referred someone, so right off the bat, each new user essentially cost them $40.
Elon Musk believes the company spent between $60-$70 million on this strategy. That's hardly a drop in the bucket, but in 2002, the platform was sold to eBay for $1.5 billion. Two years ago, it was valued at nearly $50 billion.
Was that initial outlay worth it? Hell yes.
Of course, as effective as it might be, there's a good reason companies so rarely adopt this growth hack: it's high-risk and highly expensive to execute. After all, how many startups have $60+ million in the bank to prop up this sort of strategy?
However, if you like the idea of a simple "pay to acquire users" strategy, you may want to try:
Waiting until you know your average customer LTV. This will help you figure out what each new user is worth to you, and consequently, what you can afford to pay.
Offering cash back – a cash payment but only after a customer has been with you x amount of time. This won't be nearly as effective as offering cash up front, but it also won't bankrupt you.
Key takeaway: Reward new customers with a financial incentive or gift. To minimize the strategy's impact on your bottom line, first figure out your average customer LTV, or offer the gift only once a customer has been with you for a certain period of time.
3. Popcorn Metrics
Growth lever: Going above and beyond to help customers understand the product.
According to Patrick McKenzie, "40-60% of users who sign up for a free trial of your software or SaaS application will use it once and never come back."
That's a significant percentage of users – a percentage that could probably be decreased with a more effective onboarding process (or the introduction of one, by companies that currently don't do anything to onboard new users).
This is something Popcorn Metrics did – although the extent of their onboarding efforts was more impressive than most.
They did whatever it took to help churned free trial users use their product successfully, including:
Offering 1-on-1 assistance
Tweaking code
Spending hours on Skype
Eventually, the lessons learned through such personalized onboarding assisted in the creation of more scalable onboarding materials, like:
Videos
Tutorials
Articles
The result was a 367% increase in revenue in just 12 weeks.
Key takeaway: Do whatever it takes to help new customers use your product as effectively as possible.
4. SpringSled
Growth lever: A viral referral loop.
Viral referral loops are a popular growth tactic that's responsible for helping to grow brands like Airbnb and Dropbox. Project management tool SpringSled, however, did things a little differently. They exploited this tactic pre-launch, and by the time they went live, they had 120,000 users.
Even more impressive is the fact that they did this without anyone really knowing what the tool was.
The referral loop asked people to get 5 other people to sign up, and in exchange, they would get 12 months of free use of the tool.

So people were signing up and getting others to do the same because they knew they were going to get something for free – they just didn't know what.
You might think that's a strange move. They're getting sign-ups, but they're not qualified, so what value do they really have?
First of all, the move helped the scheme go viral. It got people talking, and meant that upon launch 100,000+ people would know what they were all about. Regardless of how many of those went on to actually use the tool, that's not a bad position for a startup to be in.
Secondly, the scheme got people invested in the tool. If they had gone to the effort of referring people in order to access it, the odds that they would use it were good – if only so the time they spent getting those referrals wasn't wasted.
Key takeaway: Implement a referral scheme that requires customers to make multiple referrals in order to get their reward.
5. GrooveHQ
Growth lever: Segmenting marketing emails in accordance with user behavior.
Segmented email marketing campaigns can help marketers achieve a whole load of objectives, including onboarding customers, turning leads into sales, and driving repeat purchases.
Groove used segmented emails to try to reduce their 4.5% churn rate – a figure that for them, was proving unsustainable.
Before designing their email sequence, Groove looked at the difference in behavior between users who stuck around for 30 days or more, and those who did not.
They discovered that users who stuck around longer than 30 days spent an average of 3 minutes 18 seconds using Groove in their first session, and that they logged in an average of 4.4 times a day.
Users who quit before the 30 day window was up spent just 35 seconds using Groove in their first session, and logged in an average of 0.3 times a day.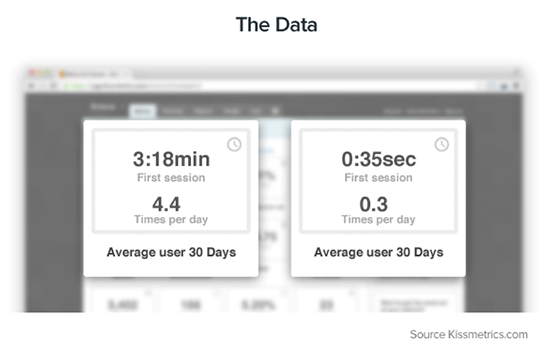 Consequently, they decided to target users who spent less than 2 minutes using Groove during their first session, as well as those who (regardless of session time) logged in 2 times a day or less, during their first 10 days of use.
The first group (those with a first session time under 2 minutes) were offered help setting up their mailbox.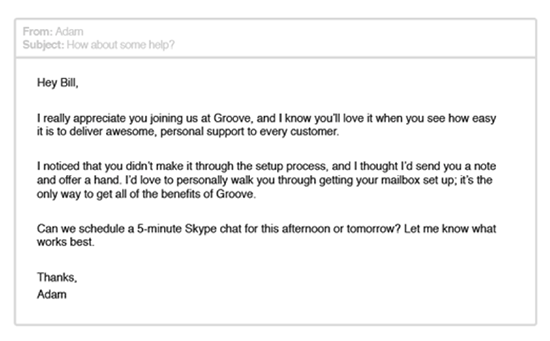 That email got a 26% response rate and more than 40% of users who were helped through the setup process remained a user after 30 days.
The second group received an email offering a personalized strategy session.
It got a 15% response rate, and 50% of those users were still using Groove after 30 days.
All in all, this segmented email strategy helped Groove reduce their churn rate by 71%.
Key takeaway: Leverage user behavior data to figure out who's most likely to need help with your product, and with what aspects of it. Then, segment users accordingly, and target them with a series of emails that offer help in addressing their specific concerns.
6. Mailshake
Growth lever: Pushing for word of mouth and referrals.
Mailshake is one of my own products – it's a tool designed to assist in leveraging cold email for generating leads, building relationships, and promoting content.
We grew Mailshake from 0 to 10k customers in 9 months, and even today an additional 500-700 new customers are signing up each month.
The bulk of these sign-ups derive from word of mouth and referrals.
Our ability to do this began with how we built the product itself. We designed it based on customer comments on our competitors' shortcomings. As a result, we set out to (and did) design a product that, primarily, was simple and low cost.
Once we were up and running, we designed a marketing strategy that focused on driving maximum word of mouth and referrals. This included:
Using NPS (Net Promoter Score) responses (positive ones, of course) as testimonials.
Asking for shares inside Mailshake.
Engaging referrers by asking at sign-up if a customer was there via a referral and who gave it, and thanking them via social media and email.
Increasing customer/product investment by asking our most active customers for product feedback.
Conducting and featuring case studies from our most successful customers.
Key takeaway: Pinpoint and engage your happiest customers. Encourage them to give referrals, thank them when they do, and ask them to provide product feedback, testimonials, and case studies.
7. PicMonkey
Growth lever: Going freemium.
PicMonkey is a photo editing and graphic design tool with a USP based on usability – it's so simple that pretty much anyone can use it.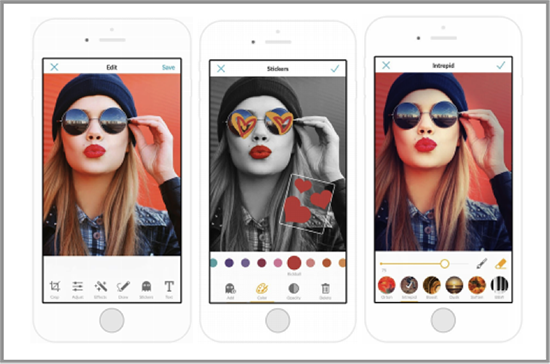 In order to drive growth – both in terms of their user base and the profit they generate – PicMonkey implemented a freemium model. This means that creating an account and getting access to its basic features is free, but for full access users need to pay up (a very reasonable $4.99 a month).
This model works because users are able to test out the tool for as long as they like. This sets it apart from a free trial model in which users have a limited time to establish whether or not the tool does what they need. At any point a user can decide that they like PicMonkey enough to pay – something that becomes more likely the more they use it.
As a result, PicMonkey reportedly has hundreds of thousands of premium users while growth is up 40% year-on-year.
Key takeaway: Offer elements of your product for free, forever, but charge users to get full access to all features.
Have you found and exploited any growth levers? It'd be great to hear what you did and the results you got, if you have a moment to leave a comment below.