While I'm happy that Single Grain is now in a financial position to support two individual offices – both filled with full-time employees and the latest tech gadgets – I can easily remember back to the days when we were a bootstrapping startup like so many other companies out there today.
If you're in startup mode yourself and haven't yet received the million-dollar financing rounds you hoped for, you're going to encounter plenty of temptations to spend money you don't have.  If you want to keep yourself going and make it past that critical first-year hump, I'd highly recommend avoiding the following ten expenses until you're on more stable financial ground.
Expense #1 – Office Space
Trust me – you don't need a prestigious office address to be taken seriously.  These days, there are so many alternative options for office space that commercial leases should be the furthest thing from your mind.  Instead of blowing your budget here, look for coworking spaces or business incubators that offer extra perks for growing businesses at a fraction of the cost of traditional office rentals.  Even consider keeping your company remote until your finances match up with your leasing aspirations.
Expense #2 – Office Furniture
Now, even if you do decide to lock in to a traditional office lease, there's no reason you need to waste even more money loading it up with new furniture!  Look for office furniture consignment stores, companies that are going out of business, university disposition programs or Craigslist ads to pick up everything you need at a fraction of the cost of buying new.
Expense #3 – Expensive Subscriptions
While paid subscriptions to services like Basecamp or Sprout Social might seem like they'll take your business to the next level, keep in mind that there are nearly always free alternatives to these programs.  Trello and SocialOomph, for example, are two options that provide many of the same features as their paid counterparts.  Start with free subscriptions now and amp up your spending in this area later on when you can really afford to do so.
Expense #4 – Conference Travel

Being seen at conferences is great for your business's profile, but it's a pretty damn expensive way to get noticed.  Until your cash flow grows, look for local networking events or free online forums.  There are plenty of networking opportunities out there – it's up to you to take advantage of them!
Expense #5 – Info Products
Info products are a huge weak point for me.  I love learning – so whenever somebody I trust and follow comes out with a new ebook or training course that promises to show me something new, it's hard for me to keep my hand off my credit card.
But the thing is, I can afford to buy these products now.  If you're starting out, buying in to a $999 course might mean the difference between paying all your bills one month or falling behind financially.  Not to mention, spending too much time learning can take away from the amount of time you're actually implementing – and that's much more important for a young company.
Stick with free online resources for now and make sure your time is focused primarily on actions (rather than learning).  There will come a time in the future when you can learn as much as you want!
Expense #6 – Shipping Supplies
Single Grain doesn't ship products (unless we're sending t-shirts to our followers), so we haven't had to worry too much about the expenses that this process entails.
But if you do ship products, there are a number of ways you can trim your expenses in this area:
Take advantage of the USPS's free packaging program (if flat rate shipping makes sense for your business).
Get the major carriers to compete for your business by asking them to match – or beat – each other's shipping rates.
Constantly compare your actual shipping and handling costs to what you're billing the customer.  If you're coming up short on each transaction, you need to adjust your margins somewhere.
Expense #7 – Printed Marketing Materials
There's nothing that says "I've arrived" like logo-printed envelopes and glossy custom brochures.  But when you're first starting out, there's also nothing quite as unnecessary as printed marketing materials.
Everything we do these days is online, which – for the savvy business owner – means that most traditional printing costs have become obsolete.  Sure, it might be worth it to pick up a box of business cards from Vista Print or Moo – especially if you plan on attending a lot of free networking events.  Just skip everything else and send electronic document versions to cut down on costs.
Expense #8 – Employee Salaries
At some point, your startup will grow to the point where bringing on traditional employees and compensating them with salary and benefits packages will make sense.  However, until you've reached a point where your cash flow is relatively stable, it may make sense to pursue alternative employment options.
Can some of your admin tasks be handled by a virtual assistant hired through Odesk?  Can you use a cloud-based accounting subscription service, rather than hire a traditional bookkeeper?  Or, if you must have employees on-site, can you come up with creative ways to compensate them based on performance incentives, rather than with set salaries?  There are options out there – and you can save a lot of money if you look for them!
Expense #9 – Brand New Computers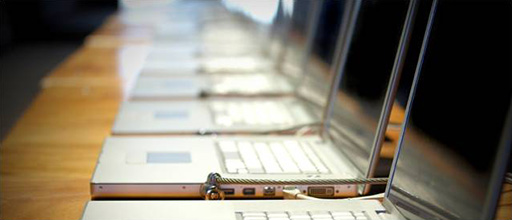 Sure, your buddy's shiny new Mac laptop looks pretty appealing – and, as a business owner, don't you deserve one too?  As Suze Orman would say, "Show me the money!"  If you can afford to buy brand new computers and tech equipment without negatively affecting your business's finances, then go for it.  And if you can't, look for manufacturer refurbished or "scratch and dent" models until your cash flow improves.
Expense #10 – Traditional Land Lines
If you need to set up phone service for your company (if, for example, you're in a traditional office, rather than a coworking space), there's simply no reason to buy-in to traditional land lines anymore.  Solutions like Google Voice or VOIP services will save you tons of money without compromising your overall service.
Now, with all of that said, I do want to make it clear that there are some areas where I don't think you should look to save money at all costs.  The following three expenses are ones that I believe every small business owner should prioritize – regardless of how young, old, successful or financially devastated the company is.
Expense #1 – Legal Advice
When you're starting out, find a good lawyer who specializes in your business's area of expertise and pay for the advice you need to keep everything kosher.  There are plenty of things you can do to save money on legal expenses (for example, doing some of your own background research or filling out documents yourself), but the financial implications of failing to start out on the right legal foot can be enough to tank your company down the road.  Don't skimp when it comes to good legal advice!
Expense #2 – Financial Advice
The same thing goes for anybody who's handling your money.  While you can save money hiring a cloud-based bookkeeper rather than a staff clerk, don't mess around with cheap advice when it comes to major financial planning issues.  Having a qualified accountant or tax attorney assist with setting up your books, advising you on potential tax saving strategies or determining your long range financial plan will be well worth any upfront costs.
Expense #3 – Taxes
And finally, don't think that you can save money by skipping out on your taxes!
When I was much younger, I used to be terrible about setting aside the money I knew I'd need to pay my taxes later on.  Instead, I'd reinvest it in my business – rationalizing that the increased growth would leave me with enough income later on to cover each April's tax bill.  Of course, that never happened – and every year, I'd wind up scrambling yet again to come up with the money I owed to the government.
Don't be like me!  Whenever your startup receives a payment, make sure that the appropriate amount is set aside in a separate account that won't be touched until it's tax time.  It takes discipline, but trust me – there's nothing worse than that mid-April scramble to come up with more cash!
Of course, these are just my opinions based on the industries I've worked in.  Your field might have its own set of "must have" and "must avoid" costs related to the nature of your work and your field.  If your list looks different than mine, I'd love to hear your ideas for saving startup capital in the comments section below: