As marketing tactics go, email might not be that new or exciting, but damn is it effective (especially when we take into account the relatively low cost of executing a campaign and consequently, the ROI it can deliver).
Want some stats to back this up?
54% of marketers rated email as the most effective digital marketing tactic at their disposal and 89% said it was their primary channel for lead generation. (source)

66% of consumers claim to have made a purchase as the result of a message received in a marketing email. (source)

After trade events and paid search advertising, email was rated the third best marketing tool for not only the quantity of leads generated, but the quality. (source)
Of course, you're not going to get very far if you can count your email subscribers on two hands. Like with all forms of marketing, email is, to an extent, a numbers game. The more qualified subscribers you can reach, the better your odds of driving clicks and conversions.
Stick with me and I'll take you through a 13-step process to growing your email list to 50k subscribers (or more), from absolutely nothing.
From 0 – 100 Subscribers
This first stage is relatively simple. If you haven't already, you need to choose and configure an email marketing service (so you have somewhere to store subscriber details) and kickstart building your email list by inviting all your current connections to subscribe.
1. Choose an Email Marketing Service
If you've already done this, it's worth checking whether or not the service in question does everything you need it to (or will need it to). Switching to a different provider later down the line wouldn't be the end of the world, but you will be making extra, unnecessary work for yourself.
Try to futureproof your email marketing by choosing a feature-rich service that's always ahead of the game.
MailChimp
MailChimp is the most popular service on the market and for good reason – it's simple to use, affordable (free in fact, for small campaigns) and feature-rich. It can also be integrated with a host of other services including most big e-commerce platforms, Google Analytics and social media sites including Facebook and Twitter.
On the other hand, MailChimp is so popular…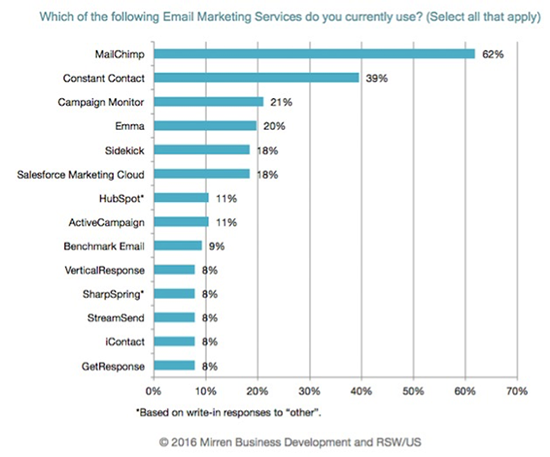 … that unless you're designing custom emails, instead of using one of their templates, you risk blending in with everyone else.
Drip
Drip is an email marketing platform with a very cool and very useful USP: its focus is making email automation easier and much more effective.
Like many platforms in this realm, Drip allows you to implement triggers and rules that will fire off pre-prepared emails when subscribers complete specific actions, but I've yet to find a platform that offers this level of depth and detail. One very exciting feature is the ability to "score" leads based on their previous actions. This allows you to gauge – at a glance – how qualified a lead is and how far along the sales funnel they're likely to be, so you can adjust the emails they receive accordingly.
If creating workflows and automating email campaigns is important to you, you won't be disappointed by the features offered by Drip.
ConvertKit
ConvertKit's a favorite of mine, primarily because it's designed specifically to meet the needs of bloggers. Many of its features have been developed to help bloggers grow their email lists, increase open rates, and manage subscribers.
ConvertKit also makes it really easy to send automated emails based on triggers.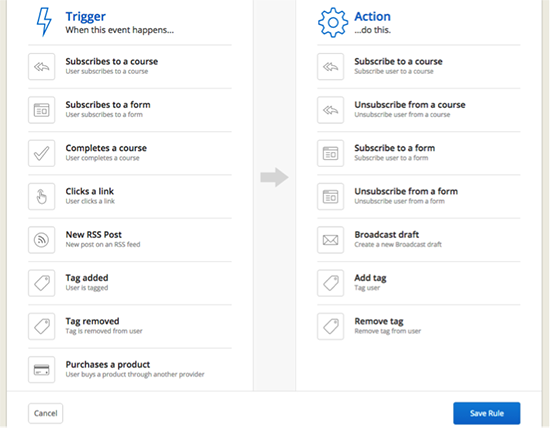 It's not for everyone – it has limited capabilities on the design front and in terms of integration, it's never going to be able to compete with MailChimp – but if you're looking to use email marketing purely to promote your blog, you can't go wrong with ConvertKit.
Bear in mind that there are dozens of email marketing tools to choose from (the right one for you might not necessarily be one mentioned here) and that this list gets even bigger if you include marketing automation platforms, too. For a more expansive list of tools you might want to consider using to grow your email list, check out this post from Zapier.
2. Invite Friends, Colleagues and Other Connections
Kickstart building your email list by inviting your current connections who might be interested in what you're marketing. This includes friends and colleagues – and possibly even family.
You can also (and should) export your LinkedIn contacts so you can email them, let them know about your new venture, and ask them to support you by subscribing.
How to Export LinkedIn Contacts
This couldn't be simpler. Just go here, select the format you want, and click "Export."

You should then import them into your email marketing platform of choice (ideally within a list designated specifically for pre-existing contacts).
Emailing Current Contacts
When you're emailing contacts to invite them to subscribe to your email list, you're technically sending a cold email. This means you can't contact them from your email marketing platform (using an email marketing platform for cold emailing almost always breaks the rules).
Instead, you're going to have to email them directly. You can do this manually, or you can streamline the process and track results using a tool like MailShake.
From 100 – 1000 Subscribers
Adding call-to-actions and sign-up forms to your website will help you secure those first few organic subscribers.
In this section we're going to go through some different types of CTAs and sign-up forms, followed by some tips for creating forms and writing CTAs that convert.
3. Implement CTAs on Key Pages
Placing CTAs on the right pages of your site will play a huge, ongoing role in the growth of your email list. Unlike many of the tactics covered here, once implemented, they pretty much look after themselves (discounting any split-testing you might decide to do). They're an essential addition to your site.
Let's talk through a couple of options.
Welcome Mats
Welcome Mats are full screen pop-ups that appear when someone lands on your site. They generally feature a single and very prominent call-to-action. That CTA could be anything you like, but in this context you're going to want to use it to ask visitors to subscribe to your email list.
To see one in action, visit adventurefund.io.
How Well Do Welcome Mats Work?
I get it if you have reservations about Welcome Mats. There's no escaping the fact that they're pretty intrusive.
But they work.
The example above resulted in a 70% increase in email sign-ups, while Tommy Griffith from ClickMinded started using them and the number of subscribers he was getting tripled.
"For the last 24 hours I've been running it, my conversion rate is on FIRE. Getting triple the amount of daily email signups I was seeing before. This is insane."
How to Implement a Welcome Mat
Sumo Me (now just "Sumo") offers the original and best Welcome Mat. You can try it out for free here.
Homepage CTAs
This is when you turn your homepage into a giant CTA. It's similar to a Welcome Mat but less intrusive, which is a big plus.
On the downside it means giving up space on your homepage that you might prefer to save for something else.
I'm currently using this strategy on my own site – although I'm using it to drive consultancy leads, not email subscribers.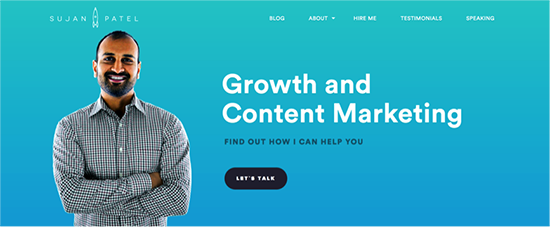 My homepage is very focused. That's in part because my whole site has a very specific purpose – it's primarily to promote my personal brand and generate consultancy leads.
It's also because the way users behave on websites has changed dramatically in the last few years. It used to be critical for a page's most important elements to sit above the fold. However, mobile devices have altered how we browse the internet to the point that scrolling has become instinctual.
In fact, research from Chartbeat found that 66% of time on a normal media page is spent below the fold.
The most important thing is to make sure that the content that greets visitors as they land on your site grabs their attention and holds it, making them want to learn more. If you can accomplish that, focusing your homepage on a single CTA should only result in good things (in this case more email subscribers).
4. Add Text-Based CTAs to Your Content
These are CTAs that live within the body of the content itself. Instead of a pop-up or a banner, a text-based link is placed within the content, and leads through to what you're trying to promote.
After experimenting with a few different types of CTAs, HubSpot found that anchor text CTAs performed best and were responsible for the majority of their blog leads.
"Between 83% and 93% of each post's leads came from anchor text CTAs and internal link CTAs."
They look something like this: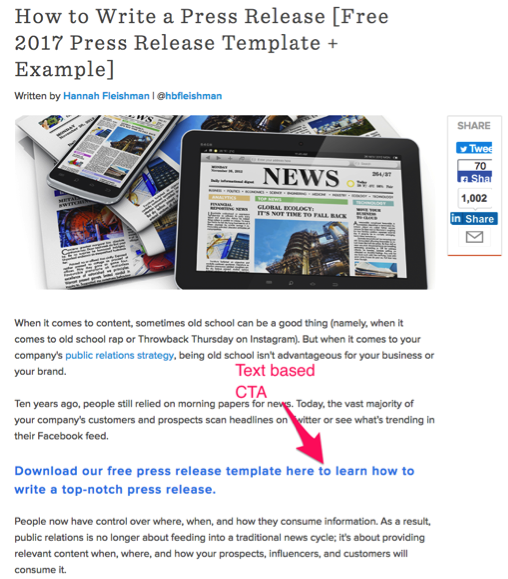 Although, they can be even more covert than that: try linking a phrase to contextual content that's hidden behind an email paywall (for example, the text highlighted in the image below links to this piece of content).

5. Implement Exit Intent Pop-Up Forms
These should appear before someone leaves your site, as a last-ditch attempt at getting them to subscribe before they leave – potentially forever.
You've got nothing to lose at this point, after all, and the potential returns are huge.
"In layman's terms [exit intent] means that the pop-up only displays when you are about to leave the site. It uses mouse tracking and other variables to figure out when you're about to leave and then BAM, displays the oversized pop-up." Ott Niggulis, writing for ConversionXL
When WP Beginner implemented them, email sign-ups increased by 600% – from around 70-80 new subscribers a day to over 450.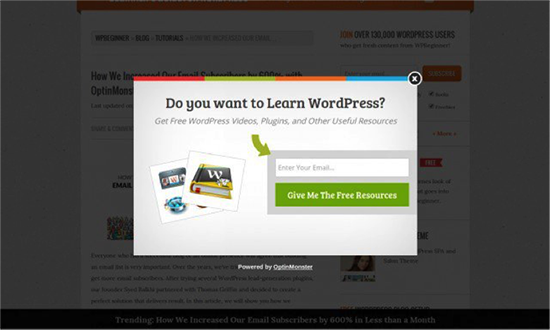 How to Create Sign-Up Forms and CTAs that Convert
The tactics covered above have all been shown to be very effective at driving conversions under certain conditions – namely, when they look good and use the right language.
Unfortunately, even today I'm still seeing sign-up forms that look like this: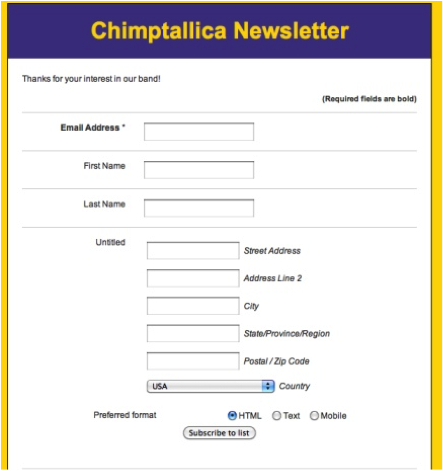 Here are a few tips for creating good-looking sign-up forms that actually drive conversions.
Keep Form Fields to a Minimum
The fewer the better. Let me refer you back to the WP Beginner example just above. It increased sign-ups by 600%. It contains a single field.
Sure, correlation doesn't necessarily equal causation – but in this case I don't doubt there's a link.
If you want more information about your subscribers, follow a new subscription up with a confirmation email that asks for more details (and highlights the value in obliging).
Demonstrate Value
Why should someone subscribe to your email list? What's in it for them?
Here's a great one from Backlinko that keeps it super simple – sign up and you can get more traffic. They've also leveraged exclusivity by highlighting the fact that these tactics are only available to subscribers.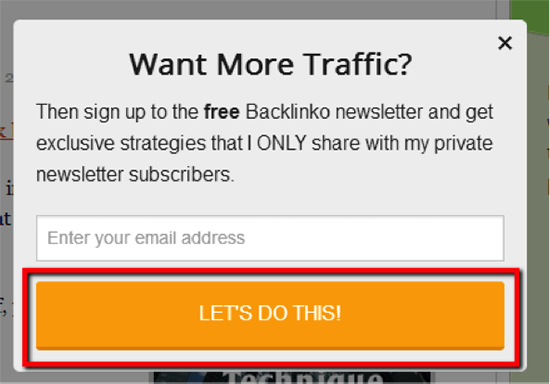 Here's another good example, this time from ConversionXL. It's a little wordier than most but I like that it doesn't just demonstrate value – it provides social proof, too (another clever tactic for boosting sign-ups).

Keep it Simple
The design of the form, your copy, and your CTA should look professional (it gains trust) but be super-simple to read and understand.
Don't try to be clever with your copy or CTAs. Just lay your cards on the table and tell your visitors exactly what they're getting.
It's worked for Netflix.
From 1000 – 10,000 Subscribers
By this point, your email list should be growing relatively steadily, with little intervention needed from you or your team. Next, let's look at some low-cost strategies for boosting these numbers further, and fast.
 6. Create "Exclusive" Content
Exclusivity is a powerful tool. The simple fact that something isn't openly available increases its perceived value.
"Exclusive content is a strange beast. It goes against our natural inclination to make as much available to as many people all the time. Yet, if done right, exclusive content can be incredibly effective at getting your audience to take action." Julie Neidlinger, writing for CoSchedule
Leverage this tactic by making some of your best content accessible only after someone signs up to your email list, and using some of the CTAs we've discussed just above to promote it.
Whitepapers are a great example of this in action. They're detailed reports or guides that are generally used by B2B companies as lead generation tools – which means you'll need to hand over some details, including an email address, in exchange for them.
Other types of content you might want to try making exclusive include:
ebooks
Primary research reports (i.e. reports based on research you've carried out yourself)
PDFs (these will often accompany blog posts)
Video how-tos
Podcasts
Tools
In fact, there's no reason, in theory, why you can't make some of your blog posts "exclusive" – just be sure to save this one for your very best posts. You don't want new subscribers to feel short-changed when the content they've "paid for" (even if it was only with an email address) isn't worth the cost.
7. Create "Exclusive" Offers
This one's pretty self-explanatory – create product offers that are only accessible once someone has entered their email address. Better yet, up the stakes by gamifying the process.
A potential customer enters their email address and "wins" one of a handful of different offers: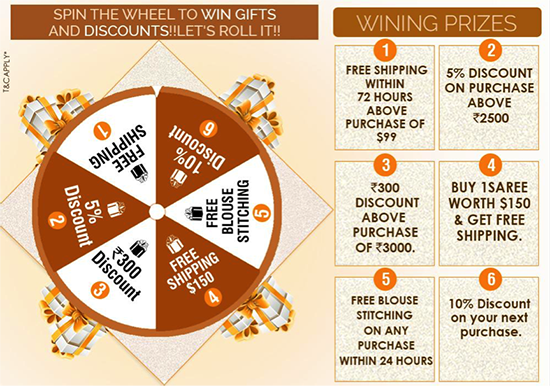 The competitive element means that even prospects that are very low down in the conversion funnel will give the game a shot for the chance to win big (even if that "big prize" is still in fact an offer).
Creating a "fixed" exclusive offer (i.e. without the gaming element) is unlikely to have the same impact.
That's because the majority of people who "bite" are going to be on the verge of converting, at which point you'd capture their email address anyway.
8. Run a Giveaway
This is one of the easiest ways to capture lots of email addresses, fast.
The trick is in picking the right prize and actually taking the time to promote the giveaway.
The Right Prize
Giveaways work best when the prize is specific to the interests of your target audience.
Would a MacBook get you more entries and in turn, email addresses?
Sure it would.
Would many of them be qualified?
Nope.
You'd just be wasting your money – period.
Instead, you could give away:
Tickets to an industry conference.
Industry books.
Your own products.
For example, if I was to run a giveaway to increase my email subscribers, I might offer 6 months of free consultancy. If I wanted to do the same for Mailshake, I might offer a free account for an entire team, for a year.
While these prizes are going to limit the number of entries and email addresses I get, most of those I do get will be from genuine potential leads.
Implementing a Giveaway
There are lots of options when it comes to running giveaways. You can:
Run them directly through a social media page (apps like wishpond are ideal for creating Facebook competitions).
Run one in an industry publication – this is great for getting in front of a new, potentially very large audience (depending on the publication). Bear in mind, however, that many publications will charge for this.
Run it on your own website. For this, you can create an entry page or a pop-up form (or ideally both, with the pop-up form promoting and linking through to the entry page).
In all instances, you'll need terms and conditions. These will probably include (but won't necessarily be limited to):
Confirmation of the prize on offer.
Confirmation that the competition is free to enter with no purchase necessary.
Eligibility to win (i.e. age or location limitations).
Confirmation of entry conditions.
Exclusions – i.e. maximum allowed entries and company employees or relations of employees.
The date the winner will be announced.
How long the winner has to claim their prize (if necessary).
A disclaimer that there is no cash alternative available, that prizes are subject to availability, and that they may be substituted for something of equal value if necessary.
Ensure you also clearly state that entrants will be added to your email list, and how they can opt-out, should they choose to.
9. Promote Your Exclusive Content, Offers and Giveaways
In most cases, the same techniques used to promote any form of digital media can be leveraged to promote campaigns used for email subscriber acquisition, like content, offers and giveaways.
I'm going to run through a few tactics you might want to experiment with, but you should, in theory, be able to leverage any tactics you've already tried, tested and gotten results with in this context, too.
Social Media
Post details of campaigns to your social profiles and use paid promotion tools to boost their reach and target new audiences.
Skip to step 12 below to see how to do this in more detail.
Email
Just because you're using offers, giveaways and exclusive content to try and grow your email list doesn't mean you can't capitalize upon your existing subscribers. Leverage them to gain word-of-mouth and drive new visitors to your subscriber acquisition campaigns.
Retargeting
Remarket to people who have visited relevant campaigns but not converted (i.e. subscribed).
You do this with AdWords & Facebook.
Outreach
There are two benefits to using outreach to promote subscriber acquisition campaigns.
You can contact people you want to connect with and would like on your email lists to ask whether they'd be interested in your content, offer or competition.
You can ask those people to boost visibility of those campaigns by sharing them.
There is very little difference between outreach used in this context, and outreach used to promote, well, pretty much anything else.
The same best practices still apply:
Personalize your email as much as possible (aim for 100% personalized, if you can).
Keep your email short and get to the point quickly.
Explain what's in it for the recipient – what do they stand to get out of saying "yes" to your ask? Can you incentivize your ask?
Provide social proof, if you have it.
Be picky about who you contact and only target people you believe are very likely to be interested in what you have to offer – it means you have more time to spend personalizing emails.
From 10,000 to 50,000+ Subscribers
If you've gotten this far, well done – 10,000 subscribers is pretty awesome – but with the right strategies in place, you can do even better. Let's go through some growth tactics for reaching new and highly targeted audiences, at scale.
10. Co-Market with Another Company
Co-marketing is when you join up with a similar – but not competing – company, and market to each other's audiences.
Take GoPro and Red Bull. They've used their shared interest (and investment) in extreme sports to advertise together, and reach each other's customers more effectively.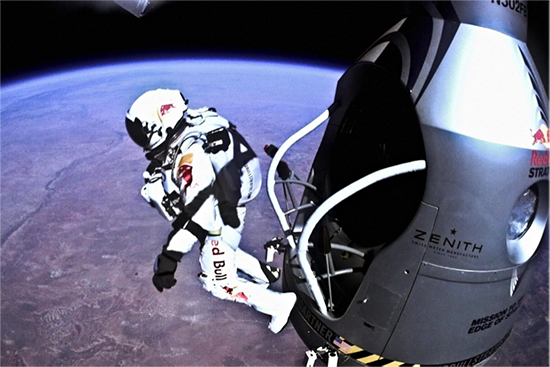 Thankfully you don't have to be a multi-billion dollar international company to make co-marketing work.
Instead, reach out to companies of a similar size, with a similar target audience to your own.
For example, let's say you run a SaaS company that offers tools used by digital marketing agencies. You'd ideally want to target other SaaS companies that have the same target audience – digital marketing agencies – but with quite a different product than your own.
Better yet, consider what connections you already have that might be interested in co-marketing.
Once you've agreed to co-market, you can both grow your email lists by sending emails to your own subscribers, on behalf of the other company.
Just make sure it's always clear who the sender is and why you're recommending this other company – you don't want to be misconstrued as spam.
The example below, between invitation specialists evite and Virgin Wines, demonstrates how this tactic often works in practice.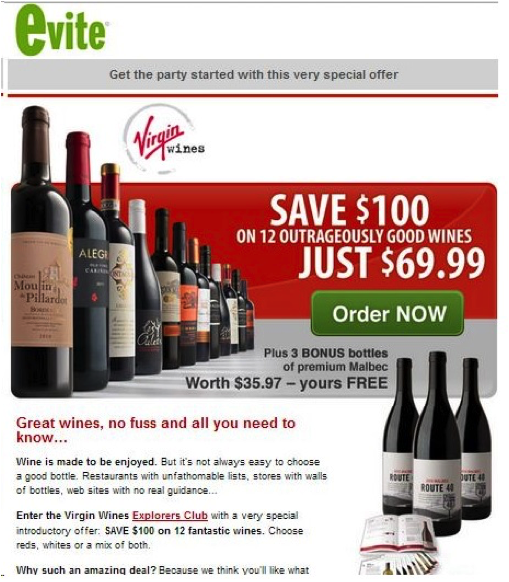 The focus is on the company being promoted (Virgin Wines) but it's clear who the sender is (evite) while the copy explains why the recipient has been sent this email.
 11. Leverage Facebook Ads
Across the world, each month, 1.86 billion people use Facebook.
That, combined with the average cost of a click on a Facebook ad (about $0.28 in the U.S.) makes the platform an invaluable tool for companies looking to reach new audiences.
Initially, targeting ads according to "demographics, interests and behaviors" can help you drive potential new visitors to your blog content. From there you can try to convert them into subscribers using impossible-to-miss pop-ups and impossible-to-resist CTAs.
Alternatively, the Lead generation ad type is designed to create leads (in this case collect email addresses) from directly within Facebook.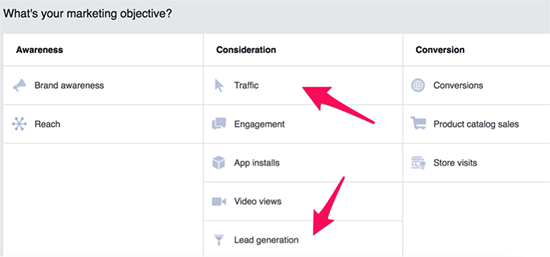 However, we're now assuming you've got more than 10,000 subscribers in your email list, and you want to get this to more than 50,000.
There's no reason why you can't continue to target Facebook ads to potential new audiences based on your chosen demographics, interests or behaviors.
You can also target lookalike audiences.
What Are Facebook Lookalike Audiences?
This is when you upload your current email list to Facebook. Facebook then matches those emails to users and builds a list of people it deems to be similar to your current subscribers.
To create a Lookalike Audience you first need to upload a Custom Audience. To do this, go to Audiences and select Create Audience > Custom Audience from the drop-down menu.
In the pop-up box, select Customer File. You'll then be given the choice of uploading a file, copying and pasting data, or importing emails directly from MailChimp.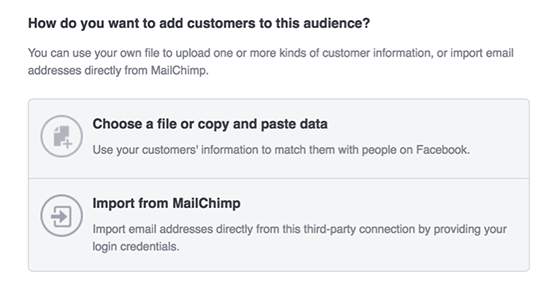 Once you've successfully added a Custom Audience, you can create a Lookalike Audience.
To do this, go back to the Create Audience drop-down menu on the Audiences page, but this time, select Lookalike Audience. Then, click Source, and select your Custom Audience.
You'll also need to select the countries or regions you want to target, how many audiences you want to create, and your chosen audience size (the smaller the size, the more closely the audience will match your source list).
Once your Lookalike Audience has been created (which can take up to 24 hours) you can leverage it when targeting future ad campaigns.
 12. Incentivize Referrals
Incentivizing referrals – as in, offering a reward as a thank you when a subscriber sends a new subscriber your way – is a great way to grow your email list.
It's even better when you modify the process to create a viral referral loop.
What Is a Viral Referral Loop?
A viral referral loop is a referral scheme in which the more successful referrals someone makes, the better the rewards they earn.
Harry's – a subscription shaving service – leveraged a viral referral scheme to build an email list of potential customers prior to launching.
They implemented a simple two-page microsite which prompted prospects to enter their email address.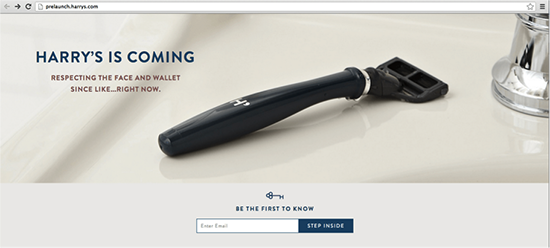 After entering it and clicking "step inside," new subscribers were encouraged to invite their friends. The more friends they invited (and that signed up), the better the rewards the referrer would earn.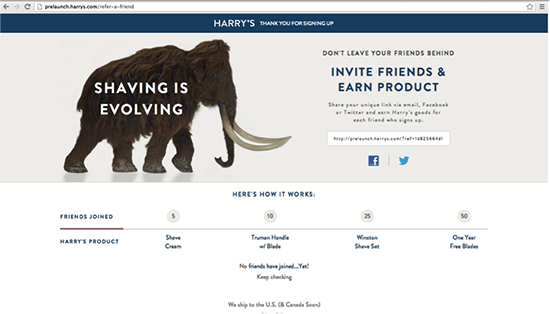 The result was more than 100,000 email addresses – not bad for a company which, at that point, hadn't even started trading.
Want to implement your own viral referral scheme?
Choose a reward that will cost you little, if anything, to offer at scale.
Create a page about your referral scheme.
Promote it on your site and on other channels such as social media.
Email all current (and new) subscribers about the scheme.
Implement a system that ensures referrers receive their rewards in a timely manner.
13. Start A/B Testing
A/B tests can help you both gain and keep subscribers (which is basically just as important as gaining new subscribers when you're trying to grow your email list).
In brief, you should be A/B testing sign-up forms, call-to-actions, and your emails themselves.
This might mean testing:
The number of fields in your sign-up forms (less is usually more).
The wording of your CTAs – try pitting typical CTAs (like "subscribe") against more creative phrases (like in the example below).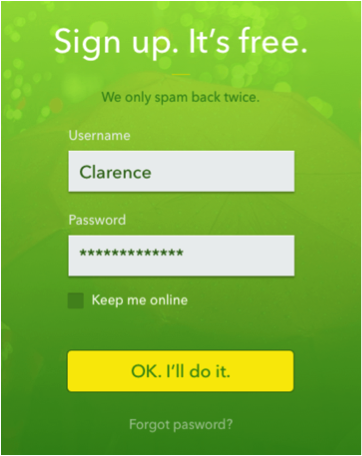 The color of your CTAs.
The placement of your sign-up forms.
The copy on your sign-up forms.
Welcome Mats vs. homepage CTAs.
While A/B testing, your emails themselves will probably include:
Subject line.
Sender name.
The template you use.
The number of images in your emails.
The length of the copy contained within the email.
The placement and number of CTAs.
The timing of your emails (both the time and the day of the week).
Variations on the copy itself.
Most email marketing platforms will have the ability to split test built in. If this isn't available, consider moving to another platform.
50K Subscribers and Beyond
In my experience, it's generally just a handful of growth tactics that really have an impact. Investing in too many different tactics, most of which offer just marginal gains, is often a waste of time.
By this point, you should have a pretty solid idea of which strategies are actually moving the needle – focus on perfecting and scaling those, and I almost guarantee you'll see a far bigger return on your investment.
Exactly what these tactics are will be different for each marketer. For me, this is in-content and banner-based CTAs, Welcome Mats, lead magnets (such as PDFs, checklists and ebooks – like this one), and webinars. I've also had a lot of luck with co-marketing. I'll often collaborate with other marketers on projects like the aforementioned ebooks and webinars. This works because we can leverage our unique experiences and skillsets, as well as each other's audiences.
What works for you might be different. This is why it's important to follow an initial, varied process during which you grow your subscriber list, learn what works best for you and your target audience, and figure out where you should be scaling.
What tactics have you used to gain email subscribers and which ones have you found to be most (and least) effective? It'd be great if you could take a moment to share some of your experiences in the comments below.
Image source: Unsplash